Voor de negende keer sluiten drie 3FM-dj's zich een paar dagen op in een Glazen Huis, zonder te eten. Giel Beelen, Gerard Ekdom en Michiel Veenstra worden om 21:00 uur opgesloten in het Glazen Huis op de Oude Markt in Enschede. De 3FM-dj's halen geld op voor het Rode Kruis om babysterfte tegen te gaan. Het is de negende keer dat 3FM Serious Request wordt georganiseerd. De voorbereidingen in de Twentse stad zijn live te volgen via een webcamstream van RTV Oost.
"Het zal heel druk worden in Enschede", verwacht zendermanager Wilbert Mutsaers van 3FM. "Maar ook in de rest van het land zullen veel acties zijn om geld op te halen." Om 17:30 uur krijgen de drie dj's hun laatste maaltijd voor ze het huis ingaan. Om 19:00 uur begint het openingsfeest op de Oude Markt met optredens van Miss Montreal, Carice van Houten en Racoon. De dj's worden om 21:00 uur door Carice van Houten opgesloten in het Glazen Huis.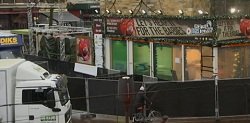 Live
3FM zendt het hele evenement live uit. Daarnaast zijn alle beelden van het Glazen Huis live te zien op 101TV. Het themakanaal is tijdens 3FM Serious Request bij bijna alle digitale aanbieders gratis te zien.
De nieuwsuitzendingen NOS op 3 komen zowel op de radio als tv vanuit Enschede. De televisieuitzending van het nieuwsprogramma op Nederland 3 komt iedere avond vanuit een speciale studio naast het podium op de Oude Markt. Voor bezoekers is er bovendien , tegen betaling, de mogelijkheid om een eigen journaal te presenteren in de studio.
RTL Nieuws meldde al dat de overheid het bedrag dat opgehaald wordt niet zal verdubbelen. De minister noemde Serious Request wel een "fantastische actie" en gaat er naar eigen zeggen ook zeker voor collecteren, maar zei namens het kabinet dat men de actie ziet als "een initiatief van de dj's met steun van het Nederlandse publiek".
Eindshow
De eindshow vindt op 24 december vanaf 16:00 uur op het Van Heekplein plaats. Caro Emerald, Ilse de Lange, Kane, Go Back To The Zoo, Kensington, The Opposites verzorgen de show.
Volg alles over 3FM Serious Request in dit dossier. Meepraten over de actie kan op RadioForum.nl.