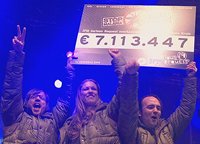 De drie 3FM-dj's die in het Glazen Huis in Groningen zaten hebben 7.113.447 euro opgehaald voor de bestrijding van Malaria. Dat is inclusief drie miljoen euro van de regering. Het opgehaalde bedrag is opnieuw een record. Dj's Giel Beelen, Gerard Ekdom en Annemieke Schollaardt zaten vanaf vrijdagavond in het huis om geld op te halen voor het Rode Kruis. Zojuist kwamen ze eruit.
"Nu op zo'n avond als dit weten we dat de neuzen in Nederland dezelfde kant op staan. Meer dan zeven miljoen, bedankt Nederland!!", aldus Giel. Eerder bedankte hij Groningen al voor alle hulp.
Vorig jaar stond er 5.637.937 euro op de teller. In 2007 was dat 5.249.466 euro, in 2006 2.648.495 euro, in 2005 2.203.549 euro, in 2004 717.351 euro toen de dj's het huis verlieten. Overigens is het bedrag van dit jaar nog niet compleet. In februari zal alles definitief opgeteld zijn.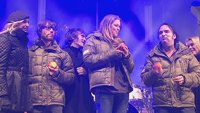 Even na acht uurt kwamen de dj's het huis uit, begeleid door zendercoördinator Wilbert Mutsaers van 3FM. Na uitgebreid met hun vrouw, vriend en vriendin gezoend te hebben stonden de dj's na een tocht door het publiek op het podium om de eerste hap in een appel te zetten (foto).
Studio Brussel haalde met 'Music for live' 3.649.595 euro op. Vorig jaar was dat 3.503.246 euro. Het Vlaamse Glazen Huis stond dit jaar opnieuw in Gent.
De Grote Markt in Groningen stond bomvol tijdens de eindshow van 3FM Serious Request. Volgens de politie waren er zo'n 10.000 mensen. Onder andere Rigby, DJ Armin van Buuren en Kane traden op. De zesde editie van 3FM Serious Request duurde dit jaar tien uur langer.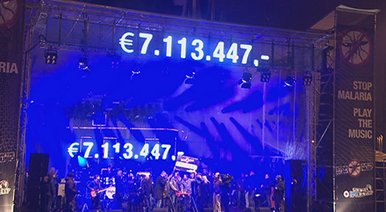 Elk jaar ontwikkelt zich een single tot een hit tijdens 3FM Serious Request. Dit jaar is dit Ryan Shaw met It Gets Better. Vorig jaar was het Verliefdheid Is Een Toverbal van Jordy van Loon. In 2007 was het Let's Dance To Joy Division van The Wombats. In 2006 waren The Fratellis met Chelsea Dagger favoriet, in 2005 was dat Multiply van Jamie Lidell. In 2004 werd door de drie dj's Galvanize van de Chemical Brothers plat gedraaid tijdens de actie.
Meteen na de actie is gestart met het uitzenden van alle verzoekjes die de afgelopen week zijn gedaan. Tot oudjaarsdag 18:00 uur is de 'Top Serious Request' te horen. De presentatie is in handen van de dj's die niet in het huis zaten, waaronder Michiel Veenstra, Bart Arens, Domien Verschuuren en Rudy Mackay.