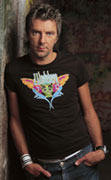 Radio 538-dj Ruud de Wild houdt privé niet van de muziek die hij op zijn werk draait. Dat zegt hij vandaag in het Algemeen Dagblad. De dj exposeert vanaf morgen zijn schilderdoeken in Eindhoven. Iconen als songteksten recyclet hij tot een nieuw eigen beeld. Maar songteksten van muziek uit zijn eigen show gebruikt hij nooit. "Het zijn vaak zulke populaire, grijsgedraaide nummers. Daar wil ik niets meer mee doen."
Ruud de Wild schildert al van kinds af aan. "Maar sinds een jaar of vijftien ben ik er serieus mee bezig en maak ik volwassen doeken", zo zegt hij. "Gemiddeld ben ik er drie tot vier uur per dag aan bezig." Ruud zegt ook nog dat zijn radio- en televisiewerk meer oplevert, maar dat hij van het schilderwerk zou kunnen leven. "Alleen wat soberder dan nu het geval is."
De expositie 'Eye*Cons' is tot 26 januari te zien in The Art Company in Eindhoven.