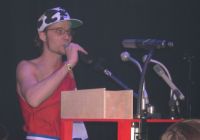 In Panama, een kleine gezellige club in Amsterdam, werden gisteren de eerste 3FM Awards uitgereikt. Dit als afsluiting van 'Weekend NL Pop' dat afgelopen weekend op 3FM te horen was. In een informele sfeer keken prijswinnaars, medewerkers van 3FM en bn-ers naar optredens van Relax, Intwine, Di-Rect en The Sheer en natuurlijk naar de prijsuitreikingen. De vier uur-durende show werd gepresenteerd Giel Beelen, Eric Corton verzorgde de radio-uitzending en Paul Rabbering draaide als afterparty. RadioFreak was er uiteraard bij!
De dj's van 3FM

Aan het begin van de middag waren de dj's van 3FM, op Eric en Giel na nog ver te zoeken. Maar na een half uurtje kwam Coen Swijnenberg binnenlopen. Hij heeft een uitgesproken mening als het gaat om de Nederlandse popmuziek. "The Sheer is toch wel mijn favoriet op dit moment, ze zijn het afgelopen jaar zo snel gegroeid. Daarnaast heb ik erg veel respect voor Within Temptation, het is niet mijn ding maar ze doen het gewoon heel goed op hun manier. Daarnaast houd ik van kleine bandjes, zoals bijvoorbeeld Voicst. Dat soort bandjes komen dan ook regelmatig langs in 'Lantinga & Swijnenberg' op vrijdagavond."
KRO-dj Paul Rabbering heeft zo ook zijn favorieten: "Within Temptation is erg goed, dat is echt mijn favoriete Nederlandse band op het moment. Daarnaast heb ik veel respect voor Nederlandse dj's die internationaal succes behalen, zoals Dj Tiësto en Ferry Corsten." Over de 3FM Awards zelf heeft hij ook een uitgesproken mening. "Ik denk dat de Awards wel een potentie hebben om uit te groeien tot een grote prijs. Maar deze manier van uitreiken is wel erg relaxed, de sfeer is ontspannen, mede doordat er geen kaarten te koop waren en het dus niet commercieel is."
We spraken ook nog met Sander de Heer, die 's ochtends vroeg nog live op 3FM had meegezongen met het nummer 'Onderweg' van Abel. "Stiekem is Nederlandstalige pop heel leuk, het is charmant dat je het kunt verstaan. Maar volgens mij schamen we ons een beetje voor onze taal en onze Nederlandstalige muziek, terwijl dat nergens voor nodig is." Zijn favoriete Nederlandse bands zingen overigens gewoon in het Engels. "Ik vind Krezip heel goed, al zijn ze nu niet genomineerd en The Sheer maakt goede liedjes, hun album klinkt erg vernieuwend." Wat betreft de radioprijs die 3FM in het leven heeft geroepen ziet hij de toekomst rooskleurig tegemoet. "Ik vind het organiseren van de 3FM Awards een hele belangrijke taak voor 3FM. Dit kan groter worden dan de TMF-Awards! Het gaat hier namelijk om de kwaliteit van de muziek, niet om uiterlijk en videoclips."
De muziekredactie van 3FM
De dj's hebben allemaal een uitgesproken mening als het gaat om Nederlandse popmuziek, maar de echte kenners werken achter de schermen van 3FM. Basyl de Groot is musicdirector bij 3FM en weet één ding heel zeker: "Nederlandse muziek is op ons station héél belangrijk. We zijn een publieke zender, dus we moeten extra ons best doen als het gaat om nieuwe muziek uit ons eigen land. Daarnaast kun je met Nederlandse muziek de radio levendig maken door bezoekjes van artiesten aan de studio en het uitzenden van live-optredens." Past het weekend van de Nederlandse popmuziek dan ook perfect bij 3FM? "Het is niet dat we iedereen per se willen laten zien hoe goed we bezig zijn op wat wij doen op het gebied van Nederlandse popmuziek, maar het is eigenlijk een bekroning op waar we het hele jaar mee bezig zijn." De awards zelf zijn uiteindelijk toch uitgereikt aan de bevestigde namen, maar dat is volgens Basyl logisch. "Als je het publiek laat stemmen, krijg je automatisch dat de gevestigde namen de meeste stemmen krijgen. Toch denk ik dat, als een ander station deze prijzen had uitgereikt, er andere bands hadden gewonnen." Van de genomineerde is Relax toch wel zijn favoriet op het moment. "Zij doen het vooral live heel goed. Daarnaast vind ik The Sheer met Stay Awake best god. Toen ik uitkwam vond ik de plaat niet zo geweldig, maar hij wordt steeds beter. Voicst is ook erg goed bezig: hun laatste plaat hebben we veel gedraaid en misschien winnen ze volgend jaar wel een 3FM Award, maar dan moet er de komende tijd nog wel meer van ze komen."
Beste nieuwkomer
De belangrijkste en spannendste prijs was toch wel beste nieuwkomer. Deze prijs ging uiteindelijk naar The Sheer. Voordat ze met deze prijs naar huis gingen spraken we met Jasper, toetsenist van de band. "Ik heb geen idee of we de prijs van beste nieuwkomer winnen, maar ik zou wel heel vereerd zijn. Als we hem winnen hebben we dat helemaal te danken aan 3FM. Zij zijn de enige zender die nieuwe muziek, zoals wij, willen uitproberen. 3FM kiest voor opvoeding van de luisteraar, niet voor het snelle geld. Hulde voor 3FM! KinkFM doet het op dat gebied trouwens ook heel goed, maar zij wilden slechts één plaat van ons draaien."
Nadat The Sheer hun prijs in ontvangst had genomen spraken we met zanger en gitarist Bart over de award. "Dit hebben we helemaal aan 3FM te danken! Ze pikten ons een jaar geleden op en staan sinds de eerste single achter ons, dat is goud waard. Dat we beste nieuwkomer zijn is dan ook heel belangrijk voor ons!" Welke awards hopen julliw volgend jaar mee naar huis te nemen? "Ik hoop beste band natuurlijk, maar beste live-act zou ook heel gaaf zijn. We hebben nu in iedere geval laten zien dat we iets te bieden hebben, en we gaan er hard tegen aan."
Giel en Eric

De radio-uitzending van de 3FM Awards werd verzorgd door Eric Corton, een man met een uitgesproken mening over muziek. "Op dit moment vind ik Voicst erg gaaf. Maar ook Peter Pan Speedrock is super, al hoor je die niet op de radio, omdat dat te hard is. Eigenlijk is dat best jammer, er mag nog wel wat meer variatie in de muziek op de radio, want er is heel veel goeds in Nederland." Zelf maakt hij overigens ook deel uit van de Nederlandse popmuziek. "Op dit moment draait 3FM 'Broken' van mijn band Tacker. Dat is helemaal buiten mij om gegaan, de muziekredactie heeft hem echt op de plaat gekozen. Ons andere werk is erg hard en zal waarschijnlijk niet op de radio te horen zijn, maar misschien komt er wel wat uit voort." Als het gaat om de awards is Dj Tiësto wat Eric betreft de meest terechte winnaar. "Ondanks dat ik het muzikaal niet begrijp, snap ik wel waarom hij beste mannelijke artiest is. Een jongen uit Breda die over de hele wereld bekend is, dat is gewoon geweldig."
Giel Beelen presenteerde de awards, waarom hij het juist mocht doen wist hij zelf niet. "Ik weet ook niet of ik eerste of tweede keus was, ik werd gewoon gevraagd. In eerste instantie dacht ik 'kut, daar gaat mijn weekend', maar eigenlijk is het een eer om de eerste te mogen doen." Hij presenteerde de show gehuld in een vlag en met een pet met koeienvlekken op. "Mijn vrouw Marisa doet mijn kledingadvies, maar eigenlijk had de feestwinkel gewoon geen pak maar wel een vlag." Op de vraag of de winnaars terecht zijn had hij een duidelijk antwoord: "Ze zijn allemaal terecht, maar de Schaal van Richter is toch wel het meest terecht omdat daar niet op gestemd kon worden." De prijzen werden uitgereikt door bekende Nederlanders. "Eigenlijk was het beter als de luisteraars de prijzen uit kwamen rijken, maar bij een award show horen bekende mensen. We hebben wel expres bners uitgekozen die niks met muziek te maken hadden." De grote vraag is natuurlijk of de 3FM Awards volgend jaar weer terugkeren, Giel weet het wel zeker. "Zonder twijfel doen we dit volgend jaar weer. Het leeft bij de bandjes en het is de eerste Nederlandse radio award. Het mag volgend jaar iets groter en iets drukker dan nu, maar deze intieme sfeer heeft ook wel iets."

De uitreiking van de 3FM Awards vond plaats in Panama te Amsterdam.

Eric Corton verzorgde de radio-uitzending vanuit een mobiele studio in Panama.

Lange Frans & Baas B wonnen de award voor beste single.

The Sheer was één van de bands die optrad."

Dj Tiësto werd verkozen tot beste mannelijke artiest.

Paul Rabbering verzorgde de Afterparty.