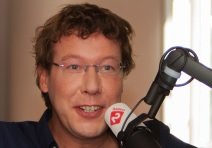 Radio 2-dj Bert Haandrikman speelt vanavond mee in The Passion. De repetities gingen niet zonder slag of stoot, want Haandrikman kneusde een van zijn ribben op de eerste repetitiedag. De dj heeft in maart, samen met onder meer Q-music-dj's Mattie & Wietze, drie dagen lang intensief gereperteerd.
"Toen ik benaderd werd om als discipel mee spelen, was ik meteen enthousiast", zegt Haandrikman over zijn rol in The Passion. "Het Paasverhaal uit de Bijbel is een verhaal van alle tijden, maar heel veel mensen kennen het niet eens! Mooi dat deze moderne vertelling daar verandering in brengt."
Hoe radiomaker Bert Haandrikman, Q-music-dj's Mattie & Wietze en veel andere bekende Nederlanders het eraf brengen voor hun rol in The Passion is vanavond vanaf 20:30 uur te horen op Radio 2 en te zien op NPO 1.