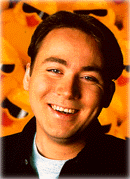 Patrick Kicken houdt na zes maanden op met het produceren en regisseren van het 3FM ochtendprogramma 'Stenders Vroeg'. Het vroege opstaan, in combinatie met 'n nachtuitzending,
draaien in discotheken en het onderhouden van vier internetsites was Patrick naar eigen zeggen te veel van het goede.
Of het niet doorgaan van de transfer van Stenders Vroeg naar Yorin FM iets met deze besllissing te maken heeft is niet bekend.
Een terugkeer van Kicken in de muziekredactie van 3FM lijkt onwaarschijnlijk, aangezien daar onlangs twee nieuwe mensen zijn aangenomen. Kicken blijft voorlopig de filmrecensies verzorgen voor 3FM. Of zijn programma 'altijd de eerste' op vrijdagnacht blijft bestaan is niet bekend.