"De gemeente heeft ons een speciale horeca-vergunning moeten geven", zo legt Dave Albers uit als we binnenkomen in het pand van Top Format in Haarlem. "Er komt natuurlijk weleens wat geluid van ons af en daarvoor moet je speciaal toestemming hebben." Het bedrijf is gevestigd in een mooie villa in Haarlem die op dit moment compleet verbouwd wordt. In het pand is het radio wat de klok slaat. In het kantoor van Albers staat Planet Radio uit het Duitse Hessen aan via internet. "Daar hebben we net een jinglepakket aan afgeleverd, dus we luisteren even hoe het klinkt natuurlijk."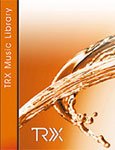 De jingleproducent is ook uitgever van een flink aantal 'libraries', cd's met instrumentale tunes en achtergrondjes. "Ik houd me voornamelijk bezig met de dingen die we maken zonder vooropgesteld doel, zoals de libraries en soundeffecten", zegt Maarten van der Vaart. "Veel radio- en televisieprogramma's gebruiken cd's van ons als tune of achtergrond. Zoals bijvoorbeeld RTL Boulevard. Die hebben de cd's gewoon staan en betalen ons via de BUMA-rechten. Veel kleinere zenders kopen een licentie. Dan betaal je dus één keer, en dan ben je overal vanaf." Maar is het niet moeilijk om te zien of een zender wel BUMA-afdraagt over jouw tune? "We checken wel regelmatig of er bijvoorbeeld van RTL Boulevard wat binnenkomt. Maar voor de rest vertrouwen wij er wel op dat het goed gaat. Je kunt niet alles nagaan."
Als een klant Jingles of reclamespots wil, komt Dave Albers om de hoek kijken. "We componeren veel zelf. Dan zegt een klant wat hij wil hebben en doen wij een suggestie hoe we het kunnen maken", zegt Dave. De muziekstudio van Top Format (het 'theater') is het domein van Sander Kerklaan. Hij componeert de muziek zelf.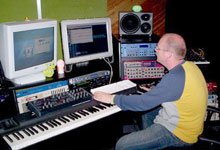 "Meestal komen klanten al zelf met een idee hoe het moet gaan klinken. Dan komen wij weer met ideeën over hoe we dat in kunnen gaan vullen. En vaak komen we zo tot een pakket. En dan ga ik aan de slag." In het 'Theater' heeft Sander alles tot zijn beschikking. Twee pc's, een keyboard, allerlei apparatuur en een electrische gitaar. Maar componeren blijft een artistiek beroep. Heeft hij wel altijd de inspiratie? "Soms ben je gewoon anderhalve dag bezig met iets en dan lukt het niet en gooi ik het weg. Dan begin je overnieuw en heb je in een middag alles erop staan. Je moet heel kritisch zijn. Je moet elke keer zoiets hebben van: 'Wauw!'. Niet iedere jingle kan natuurlijk je eigen favoriet zijn in een pakket, maar het moet wel goed zijn", zo zegt hij.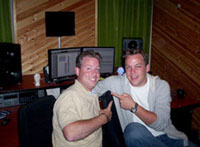 'Omroep Brabant blijft je verrassen' schalt er over de gang vanuit studio 2. De van Radio 538 overgekomen Anthony Timmers is bezig met het nieuwe jinglepakket voor de Brabantse regionale zender. Bij hem zitten Bart van Hoof en René van Brakel van de zender. "We zitten hier twee weken te werken aan het nieuwe pakket en dan is het hopenlijk klaar", zo zegt Van Hoof. Maar zangers en heel veel apparatuur zijn hier niet te vinden. Daarvoor moeten we een verdieping hoger. "Studio 1 is het middelpunt van een productie. Twee jaar geleden is de hele ruimte vernieuwd. Vroeger stonden hier bandrecorders en lagen er koffiezakjes. Dat was allemaal niet handig en te rommelig. Dus hebben we alles op de schop gedaan", zegt Dave. De technicus kan vanachter zijn mengpaneel, door het glas naar de microfoon-ruimte kijken. "Hier wordt zang of een spreekstem opgenomen."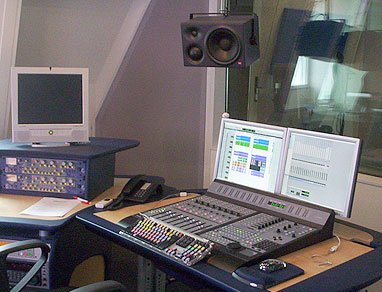 Studio 1
Studio 4 is net verbouwd en heeft 'Het Lab' als bijnaam meegekregen. "Dit is een echte freak-ruimte waar we meer de jonge honden van het bedrijf laten experimenteren met nieuwe dingen. Dat gebruiken we dan weer in producties die we maken", legt Frank Kok, een van de eigenaars van Top Format, ons uit. Roderick Schüssel is net bezig met wat probeersels.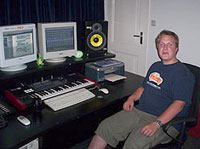 "Ik experimenteer met een urban-pakket. Ik speel daarbij in op de actualiteit, want er is veel vraag naar Urban op dit moment", zo zegt hij. Wat er met zijn productie gaat gebeuren is niet bekend. "Dat staat nog open." Frank Kok vult aan: "Dit is puur wat wij intern doen. We plukken wat mensen van de straat af die dingen inzingen. Dus voor dit materiaal gebruiken we geen professionele mensen. En daar proberen we weer wat dingen mee uit. Hetzelfde als we weer een nieuw bandje hebben gevonden." Als er later een radiostation komt die 'een nieuw geluid' zoekt, kan het experimentele pakket gebruikt worden. "We willen natuurlijk vooruit kijken en nieuw talent zoeken."
Het bedrijf had al veel legendarische klanten als Radio Atlantis, Veronica, Radio 10 en TROS Radio 3. Top Format bestaat dan ook al 31 jaar. Grondlegger is Ren Groot die in 1975 met zijn bedrijfje startte, vlak nadat hij moest stoppen bij de zeezender Noordzee omdat die in augustus 1974 samen met Veronica en Atlantis moest stoppen met uitzenden. Top Format begon echt goed te lopen in de jaren tachtig omdat er ook klanten in het buitenland kwamen.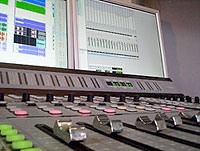 Radiostations als Radio Contact in Brussel en Antigoon in Antwerpen startten met een professionele opzet. In Nederland waren serieuze piraten als Keizerstad in Nijmegen en Decibel in Amsterdam zenders die reclame uit gingen zenden en dus ook voor omzet zorgden bij Top Format. In de beginjaren ging het vooral om het maken van reclamespotjes, maar in de jaren tachtig werd de jingle erg populair, al ging het toen nog met name om het aanpassen van Amerikaanse jingles. In de jaren negentig kwam het 'custom-pakket' erg in. Goed voorbeeld daarvan was Sky Radio die een compleet eigen pakket liet componeren en inzingen bij Top Format. In 2000 verkocht Ren Groot het bedrijf na lange tijd met verschillende overnamekandidaten gesproken te hebben, aan Frank Kok en zijn eigen zoon Lennard.
En wat vindt men bij Top Format nu het mooiste jinglepakket? "Dat is heel persoonlijk natuurlijk", zegt Dave Albers. "Maar wat mij betreft: toen Veronica nog op zaterdag zat op Radio 3, toen zijn er toch wel hele mooie uuropeners gemaakt."