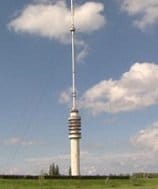 De brand in de zendmast in IJsselstein (Lopik) is vrijwel zeker ontstaan door water in de kabels, die waarschijnlijk niet aan de eisen van brandveiligheid voldeden. Dat is de conclusie van Efectis, een brandveiligheids-bedrijf dat onderzoek heeft gedaan naar de oorzaak van de brand op 15 juli. De NOS heeft het onderzoeksrapport (pdf) in handen. Zeker is dat in de kabels kortsluiting is geweest waardoor de brand kon ontstaan.
Op meerdere plaatsen in de kabels en verdelers van zenderoperator Broadcast Partners is roest aangetroffen als gevolg van het binnendringen van water. "Aanslag met de typisch blauwgroene kleur die op corrosie (zie foto) van koper duidt in de aanwezigheid van water in de holle kern", zegt het onderzoeksrapport. De kabels worden onder andere gebruikt voor de zendinstallaties van de publieke radiozenders, Q-music en BNR Nieuwsradio.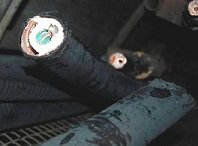 Dat er water in de kabels is gekomen, wijst er volgens de onderzoekers op dat 'componenten of montagemethoden mogelijk in bredere zin niet aan de eisen voldoen.' De brand is uiteindelijk uit zichzelf gedoofd door zuurstofgebrek. Omdat het nacht was stonden de luiken van de zendmast dicht. Als die open hadden gestaan, had het veel erger af kunnen lopen.
Broadcast Partners wijst het onderzoek van Efectis van de hand. "Als er al water in de kabels komt, dan verdampt dat gewoon", aldus directeur Robert-Jan van der Hoeven in een reactie aan de NOS. Hij noemt gevolgtrekkingen over de oorzaak van de brand prematuur. Van der Hoeven betwist ook de deskundigheid van Efectis op het gebied van zendinstallaties en spreekt van tunnelvisie en een doelredenering.
De avond ervoor
Uit meetgegevens van NOVEC blijkt dat er de avond voor de brand problemen waren in de zendmast. Die problemen, die ook veroorzaakt zijn door de natte kabels, hebben de brand in de ochtend van 15 juli mogelijk veroorzaakt. Een reconstructie is hier te vinden.
Het onderzoek zegt nog niks over de oorzaak van de brand in de zendmast van Hoogersmilde, op dezelfde dag een paar uur later. Omdat alles is verbrand en daarna drie weken in het weiland heeft gelegen, kan niet meer worden vastgesteld of corrosie ook in Hoogersmilde een rol heeft gespeeld. Feit is wel dat in de zendmast van Hoogersmilde de luiken open stonden en de brand dus moeilijker vanzelf kon doven. Het onderzoek naar de brand in die zendmast, kan volgens Broadcast Partners nog maanden duren.