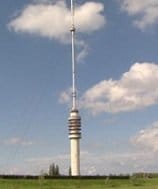 De zendinstallatie van Broadcast Partners in de zendmast van IJsselstein (Lopik) heeft geen gebreken, maar het is onduidelijk of de isolatiewaarde van het systeem voldoende is. Dat is de uitkomst van het onderzoek (pdf) naar de veiligheid van de installatie door het consultancy-bureau CO-ED in opdracht van het ministerie van Economische Zaken. Het onderzoek werd uitgevoerd aan de hand van een checklist die zendmastbeheerder NOVEC, het ministerie en Broadcast Partners hadden opgesteld. Aan de hand van het onderzoek is besloten dat het zendvermogen vanaf de zendmast weer naar 100 procent kan. Ook de gemeente IJsselstein heeft dit onderzoek gekregen.
Volgens de onderzoekers is er niet gekeken naar de installatie waar brand is geweest, maar naar het systeem dat wel in werking was en op 10 procent van het vermogen draaide. Er hingen twee keer zes lagen van elk vier antennepanelen bovenin de mast; 48 antennevelden in het totaal. Het systeem is zo ontworpen, dat met de helft van die antennes de zenders kunnen uitzenden, als dat nodig mocht zijn. Volgens de onderzoekers is naar die helft gekeken.
Afgelopen zaterdag kwam een onderzoek naar de brandoorzaak naar buiten, maar dat heeft niks te maken met het onderzoek van CO-ED.
Er wordt voorgesteld een isolatietest te doen om de isolatiewaarde van het systeem te testen. Daarvoor moeten de zenders wel uit worden gezet. "De DC-test betreft tientallen connectoren die in de Lopikmast onder lastige omstandigheden gedemonteerd en weer gemonteerd zouden moeten worden. Iets waarvan de door Novec en Broadcast Partners gezamenlijk aangewezen, onafhankelijke experts al geconstateerd hebben, dat dit niet nodig en onevenredig belastend voor het systeem is", zo meldt Broadcast Partners.
Daarnaast wordt aanbevolen om temperatuursensoren en rookmelders aan te brengen. Eventuele gaten in de buismast moeten ook dicht gemaakt worden. Volgens de onderzoekers zijn deze aanbevelingen overgenomen.
De onderzoekers zeggen ook dat er voor de langere termijn structurele verbeteringen aan het systeem aangebracht moeten worden. Welke maatregelen dat zijn moet uit andere onderzoeken komen. Naar de brand in Lopik en Hoogersmilde zijn nog 19 experts bezig onderzoek te doen.
"Broadcast Partners pleit er voor om de schade voor de omroepen te beperken en na te gaan wat echt nuttig is om de brandveiligheid op de zendtorens op behoorlijk niveau te brengen in plaats van maar wat te zwartepieten", aldus de zenderoperator in een reactie aan RadioFreak.nl. "Wij weten eerlijk gezegd niet wat de oorzaken van de branden zijn, hebben wel aanwijzingen die overigens heel andere kanten opwijzen dan die je in de pers treft, maar vinden speculeren of het prematuur duiden van de brandoorzaak erg onverstandig en wachten het door de verzekeraars en betrokken partijen gezamenlijke onderzoek daar naar liever af. Dat kan, naar verluidt, nog wel enkele maanden duren."