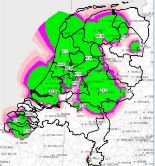 De commerciële zenders hebben niet teveel betaald voor de FM-frequenties. Dat blijkt uit onderzoek in opdracht van het ministerie van Economische Zaken. Nadat bekend werd dat een dochterbedrijf van 100%NL het landelijke kavel A7 had verkregen tot 31 augustus 2017 voor 'slechts' 828.819 euro, wilde de Tweede Kamer weten of dat een goede prijs was en of andere partijen teveel betaald hebben in 2011. Minister Kamp van Economische Zaken komt tot de conclusie dat dit niet zo is en dat er niks gecorrigeerd hoeft te worden.
De vergunningen van de andere commerciële radiostations zijn ook tot 31 augustus 2017 geldig. Zij betaalden er in 2011 miljoenen voor. Zo betaalde Q-music 26,9 miljoen euro. Maar uit het onderzoek blijkt dat het lage bedrag dat voor kavel A7 betaald is toch terecht is.
Het onderzoek is uitgevoerd door SEO Economisch Onderzoek, samen met het Instituut voor Informatierecht (IViR). Omdat de vergunning voor het kavel twee jaar korter is, is de waarde met ruim negen miljoen euro gedaald. "Daarnaast zijn sinds het voorjaar van 2011 de economische omstandigheden en vooruitzichten verslechterd", zegt Kamp in zijn brief aan de Tweede Kamer. En ook dat zorgt voor een waardedaling van ruim negen miljoen euro.
Er is ook rekening gehouden met het feit dat het kavel sinds 2009 niet gebruikt is. "Omdat kavel A7 al geruime tijd braak ligt, zal de nieuwe vergunninghouder meer inspanningen moeten doen om luisteraars aan zich te binden om zo marktaandeel te verkrijgen." In het meest minimale scenario schatten de onderzoekers dat de waarde daarmee zo'n 2,1 miljoen euro gedaald is en op iets meer dan 1,3 miljoen euro komt te liggen.
Tot slot is er een 'gevoeligheidsanalyses' uitgevoerd op twee elementen die van significante invloed zijn: verwachtingen van de reclameomzet en het ongebruikt liggen van kavel A7. De onderzoekers concluderen dat dit eerder tot een lagere waarde kan leiden. "Op basis van de berekeningen en gevoeligheidsanalyses concludeert SEO/IViR dat het aannemelijk is dat de actuele waarde van kavel A7 op of onder de
veilinguitkomst van 828.819,00 euro ligt.
Daarmee concludeert de minister dat er een marktconforme prijs betaald is en dat andere radiostations niet teveel betaald hebben. Was het kavel wel verdeeld in 2011, dan was de waarde vele miljoenen euro's hoger geweest geweest, wat overeenkomt met wat andere partijen betaald hebben. Die bedragen lagen overigens veel lager dan de bedragen die in 2003 zijn betaald bij de verdeling van FM-frequenties. Toen betaalde Q-music (toen nog Noordzee FM) 80,4 miljoen voor acht jaar.