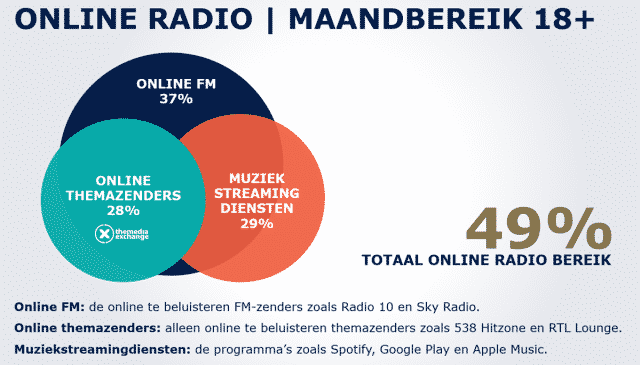 Het aantal Nederlanders dat online naar radio luistert is afgelopen jaar iets gestegen: van 44% in 2014 naar 49% in 2015. Daarmee luistert bijna de helft van de Nederlanders online naar radio. Dat blijkt uit onderzoek van MeMo in opdracht van OMS en The Media Exchange. Voor het onderzoek werden 2.054 Nederlanders van 18 jaar en ouder ondervraagd.
OMS vertegenwoordigt de sales van Radio 538, 100% NL, Sublime FM, SLAM! en Radio 10. The Media Exchange is het platform waarop adverteerders en bureaus reclamezendtijd kunnen inkopen voor online radiozenders van onder meer Radio 538, SLAM!, Radio Veronica, SkyRadio, Classic FM, Qmusic, Radio 10 en 100% NL.
Het online radiobereik is onder te verdelen in de categorieën online FM radio (FM radiozenders online), de online themazenders van The Media Exchange (bv. 538 Hitzone) en muziekstreamingdiensten zoals Spotify en Apple Music. Online FM wordt met een maandbereik van 37% het meest beluisterd.
Naar de muziekstreamingdiensten luistert 29% minstens één keer per maand en naar de online themazenders die aangesloten zijn bij The Media Exchange luistert 28% (ruim 3,6 miljoen Nederlanders). Dit samen zorgt ervoor dat bijna de helft van de Nederlanders maandelijks online naar de radio luistert.
Het hele onderzoek is via deze link terug te lezen.