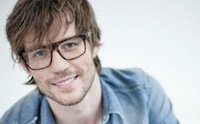 3FM-dj Giel Beelen heeft het wereldrecord radiomaken op 198 uur en 10 seconden gezet. Sinds vorige week maandag is hij op de zender geweest. Zojuist verliet hij de studio. "Dit is echt het mooiste radiomoment uit m'n leven", zei hij met tranen in z'n ogen. Met het nummer 'The Highways Of My Life' van The Isley Brothers sloot Beelen zijn radiomarathon af.
"Ik zou door mogen om het record op 200 uur te zetten, maar ik wil niet nog meer uren innemen van m'n collega's." Beelen verbrak vannacht om 04:00 uur het oude record, dat op naam stond van de Vlaming Lennart Creël.
Beelen deed de recordpoging naar aanleiding van het tienjarig bestaan van zijn ochtendshow op 3FM.
Het heftigste moment was gisteravond. "Ik begreep niet meer wat ik deed. Ik zat op de radio terwijl ik dat zelf niet meer wist. Ik had het idee dat ik off-air een demootje zat te maken." Toch heeft hij geen moment gedacht aan stoppen.