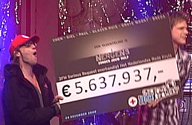 De drie 3FM-dj's die in het Glazen Huis in Breda zaten hebben 5.637.937 euro opgehaald voor hulp aan vluchtelingen wereldwijd. Dat is inclusief 2,5 miljoen euro van de regering. Minister Koenders beloofde vrijdag aan het begin van de actie het geld als de dj's zelf ook minimaal 2,5 miljoen euro zouden ophalen. Dat is gelukt. Het opgehaalde bedrag is opnieuw een record. Dj's Giel Beelen, Paul Rabbering en Coen Swijnenberg zaten vanaf vrijdagochtend in het huis om geld op te halen voor het Rode Kruis. Zojuist kwamen ze eruit.
"We zijn allemaal een beetje Brabander geworden", zei Coen Swijnenberg. De afgelopen dagen was het non-stop druk bij het Glazen Huis.
Vorig jaar stond er 5.249.466 euro op de teller, in 2006 2.648.495 euro en in 2005 2.203.549 euro toen de dj's het huis verlieten. Overigens is het bedrag van dit jaar nog niet compleet. In februari zal alles definitief opgeteld zijn.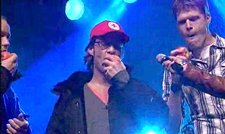 Rond acht uurt kwamen de dj's het huis uit, begeleid door zendercoördinator Florent Luyckx van 3FM. Na uitgebreid met hun vrouwen en vriendinnen gezoend te hebben stonden de dj's na een tocht door het publiek op het podium om de eerste hap in een appel te zetten (foto).
Studio Brussel haalde met 'Music for live' 3.503.246 euro op. Dat was net iets meer dan vorig jaar. Het Vlaamse Glazen Huis stond dit jaar in Gent. De Vlaamse regering schonk daar drie ton van. De federale Belgische regering had al eerder beloofd een miljoen euro bij te dragen. In Zweden werd met een Glazen Huis 227.778 euro opgehaald. In totaal heeft de actie dus 9.368.961 euro opgeleverd.
De Grote Markt in Breda stond bomvol toen eerst Timur Perlin terug kwam van een tocht liftend door Europa. Hij haalde daarmee bijna 30.000 euro op. Gerard Ekdom 47.956 handen gedurende de actie en kreeg daarvoor per hand een euro van kabelaar Ziggo. Die maakte er uiteindelijk 50.956 euro van.
Onder andere Ilse de Lange, Novastar en Krezip traden op. Elk jaar ontwikkelt zich een single tot een hit tijdens 3FM Serious Request. Dit jaar is dit Verliefdheid Is Een Toverbal van Jordy van Loon. Vorig jaar was het Let's Dance To Joy Division van The Wombats. In 2006 warende The Fratellis met Chelsea Dagger favoriet, in 2005 was dat Multiply van Jamie Lidell. In 2004 werd door de drie dj's Galvanize van de Chemical Brothers plat gedraaid tijdens de actie.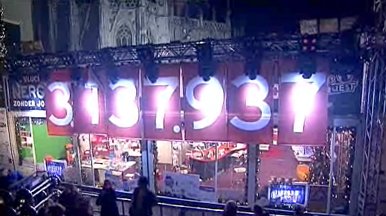 Het bedrag dat werd opgehaald zonder de verhoging van de regering