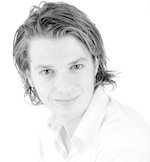 Wietze de Jager mag zichzelf 'The voice of Q' noemen. De dj won vanochtend de talentenjacht onder dj's van Q-music, die was georganiseerd door 'De Goeiemorgenshow'.
Wietze won met het nummer 'Zing voor me' van Lange Frans en Thé Lau. Hij nam het in de finale op tegen Jeroen van Inkel die 'Feeling Good' van Michael Bublé zong en Gijs Staverman die 'Het regent zonnestralen' van Acda & De Munnik ten gehore bracht.
Het drietal was via voorrondes, die de afgelopen weken werden gehouden, in de finale terecht gekomen. Luisteraars konden vanochtend stemmen op hun favoriet via sms.
"De vraag is hoeveel aanbiedingen Wietze van platenmaatschappijen zal krijgen en of dit een eventuele carrièreswitch voor hem zal betekenen. Hij mag zich in ieder geval een jaar lang 'The Voice of Q' noemen", laat Q-music weten.