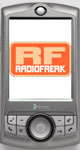 Het aantal Nederlanders dat radio, tv of kranten via internet volgt, is de afgelopen jaren sterk gestegen. Dat blijkt uit cijfers van het Centraal Bureau voor de Statistiek (CBS) onder 4000 mensen van 12 tot 75 jaar.
Ruim de helft van de internetters luistert naar de radio of kijkt naar de tv via internet. Dat komt neer op een verdubbeling in drie jaar tijd.
Laptops met draadloos modem of mobiele telefoon om anders dan thuis of op het werk te kunnen internetten komen steeds meer in zwang. In 2008 gebruikt ruim een kwart van de internetgebruikers wel eens mobiele apparatuur. Mannen internetten vaker met mobiele apparatuur dan vrouwen, respectievelijk 31 en 21 procent. Een laptop met toegang tot internet is steeds vaker in huis aanwezig. In 2008 bezat 54 procent van de huishoudens met internet een laptop. Deze vervangt de gebruikelijke desktop computer.