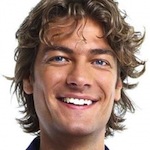 3FM-dj Frank Dane is te zien in een sekstape op internet. De video dateert uit 2010 en werd aangeboden aan erotiekproducent E.C.Entertainment. Te zien is hoe er in een hotelkamer wijn wordt gedronken en dat de dj seks heeft met de vrouw.
E.C. Entertainment is in zijn nopjes met de beelden en zegt vooralsnog de tape vandaag te publiceren op zijn website PolderTube. "Want iedereen moet kunnen genieten van deze film", aldus hun woordvoerder Daphne Neufeglise tegen RTL Boulevard.
Of de tape echt is, is niet duidelijk. Het zou om een 1 april-grap of promo voor het programma 'De Gekste Dag' kunnen gaan. In de aanloop naar deze benefietavond op 28 maart zet het programma door het hele land originele en grappige acties op touw om geld op te halen voor Nederlanders die onze hulp hard nodig hebben.