VHU is van een klein hoekje in het pand van 3FM gegroeid tot een groot jingleproductiebedrijf in een villa in Hilversum. Een jaarlijkse barbeque organiseren ze om de 'geluidsoverlast' voor de buurt te compenseren. Het bedrijf van vormgever Diederick Huizinga is de afgelopen jaren zijn eigen huis ontgroeid. Van Huis Uit veranderde in VHU Europe en onlangs sloot het bedrijf een samenwerking met het Amerikaanse jinglebedrijf Reel World.
Huizinga startte zijn bedrijf nadat hij voor verschillende bedrijven jingles had gemaakt. Zijn carrière begon bij Top Format waar hij zich opwerkte van bandjeskopieerder tot vormgever. "Aan het begin kopieerde ik de bandjes met Amerikaanse jingles van JAM en verstuurde die naar stations in Europa. Vervolgens ging ik me bezig houden met lokale commercials en daaruit vloeide de vormgeving voort."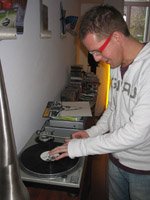 "Na vijf jaar vroeg Robert Jensen me om voor Veronica FM de vormgeving te gaan doen. Dit was één van de eerste stations die een eigen vormgever in dienst nam." Toen Veronica de HMG verliet werd het station Yorin FM, dit pakket was volledig door Diederick gemaakt. Eigenlijk zou het station Me gaan heten, maar kledingketen We stak daar een stokje voor. "Alle vormgeving was voor Me al af, maar we moesten snel over naar Yorin FM. De vrijheid was enorm hier, Jensen zei als jij een promo maakt die twee minuten duurt en hij is leuk, dan duurt hij twee minuten en geen twintig seconden. We begonnen in januari 1998 al met introducs (over het intro heen zingen), iets wat Q-music en sinds kort Sky Radio ook doen." Nadat de sfeer bij het station weg begon te ebben vertrok Huizinga om zijn eigen bedrijf te starten.
Het starten van een eigen bedrijf was niet zijn eigen idee. "De toenmalige zendercoördinator Paul van der Lugt vroeg me om de vormgeving voor 3FM te doen. Het enige probleem was dat hij me niet in dienst kon nemen. Hij adviseerde me een eigen bedrijf te starten en daarvandaan de jingles te maken. VHU (toen nog Van Huis Uit) was geboren."
"Voor 3FM ging ik alle vormgeving maken. Paul van der Lugt zei: 'Jij bent de vormgever en zoek het maar uit, het is jouw station.' Dat was makkelijker gezegd dan gedaan. Alle omroepen hadden hun eigen pakket en die moest ik op één lijn krijgen. Dit lukte door heel veel met iedereen te praten. Het heeft een jaar geduurd om de eerste versie van het pakket op te leveren. Vijf jaar later verzorgen we nog steeds de vormgeving bij 3FM. We hebben er twee jongens voor vast zitten. Zij houden zich bezig met korte termijn dingen als promo's en sweepers . Hier in de studio maken we dan weer nieuwe jingles en bedjes. Dat doen Stas Swaczyna en ik, 3FM heeft altijd een speciaal plekje bij me."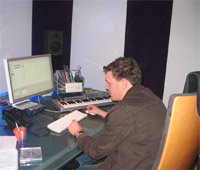 Samen met Stas begon hij ook vanuit zijn bedrijf jingles te maken voor andere stations. "Stas was stagiair en samen hebben we heel veel uren gemaakt. Langzaam aan groeide we steeds verder. Toen het WNF vroeg of we naast hun radiocommercial ook een televisiespotje konden maken besloten we dat er ook bij te gaan doen. We huurden een tv set en door te proberen kwamen we tot het gewenste resultaat." Toen er zeven man bij Van huis Uit werkte en die allemaal in het huis van Diederick moesten werken dacht hij dit kan zo niet langer. "Ik had alleen nog mijn slaapkamer voor mezelf. In de huiskamer zaten de vormgevers en in de keuken de Sales. Toen besloten we een pand in Hilversum te betrekken."
Nu zit VHU alweer twee jaar in het pand in Hilversum en groeit steeds verder uit. "TV en radio worden twee losse onderdelen van VHU. We hebben een creative director in dienst genomen die zich bezig gaat houden met televisie. We gaan naast vormgeven ons ook bezig houden met een adviserende rol op tv gebied. Van radio snap ik hoe het werkt, van TV niet. Daarom hebben we daar de beste mensen voor in dienst."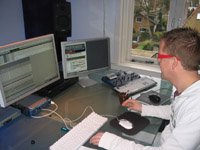 Naast televisie is VHU op jinglegebied ook nog aan het uitbreiden. Sinds deze herfst is het bedrijf partner van het Amerikaanse Reel World. "Om door te groeien dachten we: we hebben een sterke partner. Een week later zaten we in het vliegtuig op weg naar Seatle om met Reel World de eerste gesprekken te voeren. Na een jaar praten was de deal rond. Nu zijn we bezig om in alle grote Europese radiolanden mensen te zoeken die ons vertegenwoordigen. In ieder land willen we een accountmanager hebben." Jingles kunnen dan nog steeds volledig in Amerika gemaakt worden of hier of beide. De zang kan bijvoorbeeld in Nederland worden opgenomen en dan in Amerika worden afgemixt.
Maar hoe gaat het maken van een pakket in zijn werk? "We denken hier erg muziekgericht. Laatst voor het Belgische Contact hebben we bijvoorbeeld eerst een dag met de program directer in de studio gezeten om platen te luisteren. Zo krijgen we een beeld van wat ze draaien en wat voor jingles daar dan weer bij horen. Dan maken we muzieklijntjes, daar komt dan zang bij en dat mixen we af." De productietijd van een pakket kan twee weken zijn maar ook een maand. "Dat hangt af van de grote van het pakket. Voor het nieuwe 3FM pakket moet je een dag per jingle rekenen. Maar tijd is niet belangrijk. We leveren liever twee goede pakketten per maand dan vijf half afgemaakte."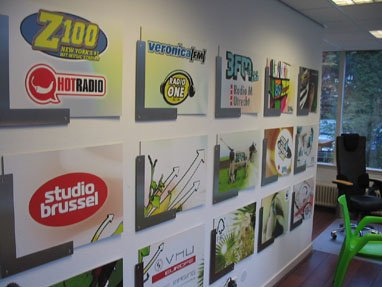 Alle stations op een rijtje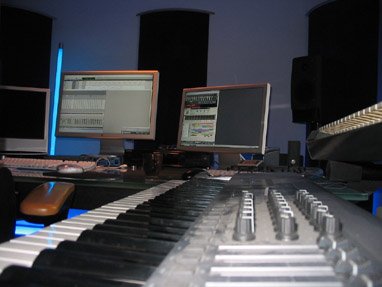 Een productiestudio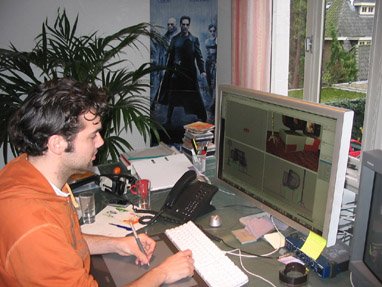 Ook televisievormgeving wordt hier gemaakt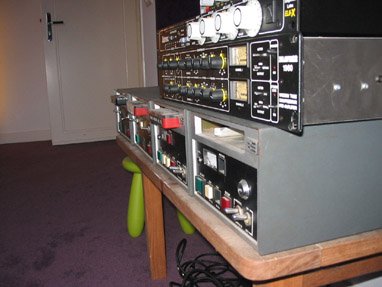 Nostalgie