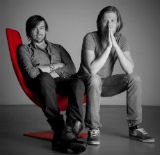 Mattie & Wietze, de ochtendjocks van Q-music, spelen dit jaar een rol in The Passion. Dat is een liveshow van de EO waarin het Paasverhaal wordt nagespeeld. Dit jaar vindt het evenement plaats in Enschede op donderdag 2 april.
Het duo zal in de huid kruipen van twee discipelen van Jezus. De afgelopen vier jaar gingen veel bekende Nederlanders hen al voor.
Voor Wietze de Jager is het verhaal van The Passion niet nieuw, omdat hij gelovig is. Maar zijn collega Mattie Valk liet vanochtend op de radio weten dat hij geen idee heeft waar het precies over gaat.