Radio 3FM zendt dit jaar weer een jaarmix van DJ Sandstorm (op de foto tijdens Consert At Sea) uit. Vorig jaar werd de mix niet uitgezonden vanwege de Serious Request actie. Maar morgenvanavond is de '3FM Serious Jaarmix' terug op de publieke popzender.
Het is niet de enige jaarmix die dit jaar is gemaakt, maar toch denkt DJ Sandstorm (Sander Verhaar) zich te onderscheiden. "De DJ Sandstorm mixen klinken volgens mijn recept als 1 liedje, met kop en staart. Daarnaast is de muziekkeuze, gitaarrock naast dance, denk ik onderscheidend." De dj heeft goed naar 3FM geluisterd voor hij de mix maakte. "In de mix zit typische 3FM muziek: hiphop/R&B, pop, rock en dance. Als handvat gebruik ik de 3FM playlists. Door mijn wekelijkse mixen voor het programma Ekstra Weekend met Gerard Ekdom en Michiel Veenstra ben ik door het jaar heen goed op de hoogte van de muziek op 3FM."
Voordat Sandstorm de wekelijkse 'Operation DJ Sandstorm' mix ging maken voor Ekstra Weekend, deed hij hetzelfde voor Swijnenberg en Lantinga op vrijdagavond met 'Mix In The Weekend'. Juist door de wekelijkse samenwerking komt nu ook de jaarmix weer op 3FM, is het vermoeden van de dj. "Ik denk dat we een goeie band op hebben opgebouwd met die mixen."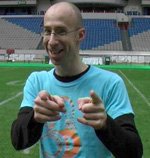 Het maken van de mix gaat niet zomaar, zegt de dj. "Het puur mixen / produceren kost me meer dan 80 uur. Daaraan vooraf gaat al het uitzoekwerk welke platen erin komen (en welke niet). En na het mixen volgt het schaven en nabewerken van de mix. Alles wordt dan nog eens aan een kritisch oor onderworpen." Vorig jaar klonk het wat alternatiever. Maar dit jaar zullen de commerciële nummers weer meer aan bod komen. "Ik weet niet waar het precies aan ligt, misschien vond ik de commerciëlere nummers van vorig jaar minder. Dit jaar vind ik dat er een hoop goeie dingen zijn uitgebracht."
Het is voor Sandstorm dan ook moeilijk een favoriet nummer eruit te pikken. "Maar ik werd dit jaar erg vrolijk van The Freestylers met In Love With You. Daarnaast is Blood van The Editors ook een erg fijne plaat." Boten Anna van Basshunter is wat hem betreft het slechtste nummer. "Toch is het wel grappig", voegt hij daaraan toe.
Wordt het niet een keer tijd dat de Jaarmix op cd komt? Wat mij betreft komt het graag op cd! Ik zou graag zien dat er in 2007 een DJ Sandstorm Jaarmix door een platenmaatschappij wordt uitgebracht. Moeilijk is vaak het clearen (rechten verkrijgen, red.) van een groot aantal tracks. Maar daar valt natuurlijk van tevoren over na te denken: wat kan wel en wat kan niet."
De mix is morgenvanavond tussen 20:00 en 21:00 uur te horen, na het NOS Headlines jaaroverzicht.