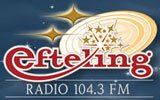 Efteling Radio is vanaf nu te beluisteren op de kabel van Ziggo. Het kabelbedrijf neemt de kinderzender op in het digitale pakket. Of dit het standaardpakket of een ander pakket zal worden, is nog niet duidelijk. Daarnaast zal het radiostation in een aantal Ziggo-gebieden analoog te ontvangen zijn.
Onder meer Zoetermeer zal dat het geval zijn. Voor de overige gebieden is dit afhankelijk van de adviezen door de regionale programmaraden. Eerder werd al bekend dat UPC de kinderzender ook door gaat geven.
Efteling Radio verwierf in 2008 de lokale commerciële etherfrequentie 104.3 FM in Kaatsheuvel. Het radiostation heeft de ambitie om landelijk op de kabel te komen. "We hebben geen commercieel belang met de radiozender", liet Vugts weten. "Efteling Radio heeft de ambitie om landelijke dekking te verkrijgen, maar vooralsnog niet met FM-dekking. We willen het merk op innoverende wijze meerwaarde geven. Het is in feite strategische merkproduktiontwikkeling- en innovatie.