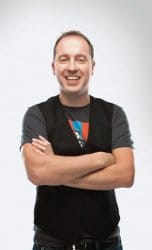 Edwin Evers stopt met The Voice of Holland. Het drummen voor het tv-programma met zijn band is teveel werk. "Het is allemaal naast m'n radiowerk en dat wordt gewoon teveel", zo zegt de 538-dj bi RTL Boulevard. "Het begon in het eerste seizoen met The Voice, en daarna kwam daar ook nog The Voice Kids bij. En dat is allemaal lastig te combineren met een ochtendshow."
De dj van 538 is op dit moment ook nog bezig met een theatertour die tot en met juni duurt. Daarnaast produceert hij ook nog het album voor Glennis Grace.
Vanaf juni gaat Evers zich weer volop storten op radio.