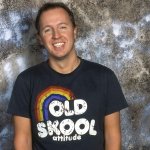 Edwin Evers krijgt een plek in de Walk of Fame van RTL, omdat de dj tien jaar te horen is met zijn ochtendshow op Radio 538. Vorig jaar is RTL Nederland tijdens zijn twintig jarig bestaan gestart met de Walk of Fame op het Mediapark. Evers is de eerste dj van Radio 538, onderdeel van RTL Nederland, die een plekje krijgt in het erepad.
Omdat Evers tien jaar bij Radio 538 werkt presenteert hij sinds 6:00 uur vanochtend een 18 uur durende marathonuitzending. Samen met Rick Romijn en Niels van Baarlen is hij nog tot middernacht te horen met Evers Staat Op.
In de uitzending komen velen gasten langs. Onder meer (oud-)collega's Rob Stenders en Jeroen van Inkel schoven al aan bij Evers en zijn side-kicks.
Overigens staat Edwin Evers al langer dan tien jaar heel vroeg op. Voor de tien jaar dat hij bij Radio 538 werkte, presenteerde hij zijn ochtendshow al drie jaar op 3FM.