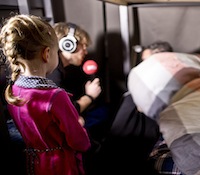 Met nog 25 uur te gaan, staat de teller van 3FM Serious Request op 6.142.180 euro. Daarmee komt de actie steeds dichterbij de slotstand van vorig jaar, toen werd 8.261.004 euro opgehaald voor moeders die geraakt zijn voor oorlog. Daarvan kwam het grootste deel op de laatste dag nog binnen.
Eén van de hoogtepunten van deze editie van 3FM Serious Request vond vanmiddag plaats. Tijdens Veiling TV stond er plots een groep Koreanen in het Glazen Huis en toen ook nog Gangnam Style werd gestart…
En er gebeurde nog meer: het Glazen Huis kreeg vandaag een derde brievenbus. Ook werd duidelijk welke plaat de dj's dit jaar tot anthem hebben verheven. Dat is Scream & Shout van Will.i.am feat. Britney Spears.
Morgenavond komt er een einde aan de negende editie van 3FM Serious Request. Vanaf 16:00 uur begint de eindshow op het Van Heek Plein in Enschede met optredens van onder meer Kane, Kensington, Goo Back To The Zoo en Ilse de Lange. Voor het zover is, is Ilse vannacht al te gast als slaapgast. De eindstand wordt morgenavond even voor 21:30 uur bekend gemaakt.