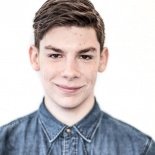 3FM-dj Joram Kaat organiseert een Nachtfestival voor zijn luisteraars. Tijdens zijn nachtuitzending in de nacht van dinsdag 26 op woensdag 27 augustus wordt het gehouden in het Koelhuis in Zutphen.
Tijdens het festival treden onder meer Go Back To The Zoo, Lucas Hamming en HeavyLight op. Zij treden allemaal gratis ook en ook de locatie, catering en beveiliging regelde Kaat voor niks, met hulp van zijn luisteraars.
"Het begon als een gek idee tijdens mijn nachtprogramma. Het is waanzinnig om te merken dat er zoveel luisteraars zijn die fanatiek meewerken om van het nachtfestival een succes te maken. En met deze line-up weet ik zeker dat het top wordt". aldus de dj.
Vanaf september verlaat Joram Kaat de nacht van 3FM. Hij volgt Klaas van Kruistum op als presentator van het EO-programma 'Jouw WeekendFinale' op zondagavond.