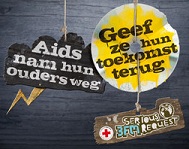 Marco Borsato, Alain Clark, Go Back to the Zoo, Ilse deLange, Guus Meeuwis en Bløf treden 24 december op in Eindhoven als de drie 3FM-dj's het Glazen Huis verlaten. Rond 21:45 uur komen Gerard Ekdom, Giel Beelen en Coen Swijnenberg na zes dagen radiomaken zonder eten het huis uit.
De artiesten treden belangenloos op. Tijdens deze show wordt ook de opbrengst bekend gemaakt. Van deze finale doen 3FM op radio en BNN/NOS voor televisie gezamenlijk vanaf 19:30 uur live verslag op Nederland 3.
De dj's laten zich vanaf 18 december 20:00 uur voor de zevende editie van 3FM Serious Request opsluiten in het Glazen Huis op de Markt in Eindhoven. Ze eten zes dagen niets en maken 24 uur per dag radio om zoveel mogelijk geld in te zamelen voor de stille slachtoffers van aids in Afrika. Dat zijn kinderen. Kinderen die hun ouders verliezen aan aids.