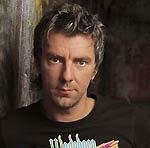 Ruud de wild is binnenkort te zien in de RTL-soap Goede Tijden, Slechte Tijden. De dj van Q-music wilde graag een figurantenrol in de oudste soapsreie van Nederland en belde tijdens zijn ochtendshow met uitvoerend producent Kennard Bos. Die was enthousiast.
"Dat lijkt me goed, laten we dat maar doen", aldus Bos. Wanneer de dj en kunstenaar zijn debuut maakt in de soap is nog onbekend. "Ik denk wel binnenkort, volgende week of zo", aldus Bos.
De GTST-actrices Gigi Ravelli en Lieke van Lexmond hadden op verzoek van de Wild al eerder bij Bos gevraagd of hij de dj zou willen casten.