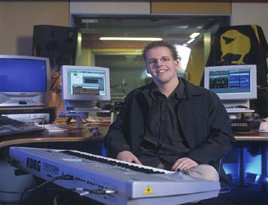 Radio 3FM heeft nu al een jaar een eigen vormgever. Diederick Huizinga is verantwoordelijk voor de gehele vormgeving van het publieke popstation. Voor ons dus de hoogste tijd om langs te gaan bij deze creatieve jinglemaker om te kijken wat hij doet.
Hieronder een verslag van het bezoek van RadioFreak aan 3FM waar we een interview hadden met de vormgever van het station: Diederick Huizinga
Diederick Huizinga's carrière is begonnen bij het jinglebedrijf 'Top Format'. Hij kwam daar terecht door een brief te sturen en daarin te zeggen dat hij graag bij het bedrijf wilde komen werken. Hij wilde dolgraag aan de slag. Het maakte hem niet uit of hij koffie moest zetten, bandjes moest kopiëren of wat dan ook! Alles wat hij wilde was daar werken.
Hij begon dan ook als chef van de afdeling kopiëren van de tapes met de nieuwste jingles. "Zo kon ik als eerste de nieuwste jingles van Z100 horen," vertelt Huizinga. Op een gegeven moment mocht hij met Bart van Gogh, de creatieve kracht van Top Format, de studio in en bedacht hij de teksten voor jingles en mocht ze soms ook afmixen. Van het één kwam het ander en na verloop van tijd mocht Diederick alles zelf doen in de studio's.
Na vier en een half jaar Top Format belde Robert Jensen met de vraag of hij voor Veronica FM jingles wilde komen maken. "ik had echt onwijs naar m'n zin bij Top Format, wilde niet echt weg, maar Veronica is toch altijd een droom van me geweest". Hij nam daarom de aanbieding aan en werkte onder meer met Alfred Lagarde. "Zo gaaf om met hem in het echt te werken, de laatste weken voor z'n overlijden waren heel bijzonder, z'n stem klonk zo goed".
Na 4 jaar Veronica werd Diederick gebeld door zendercoördinator Paul van der Lugt van Radio 3FM om bij de publieke popzender te komen werken. Het station was opzoek naar een goede vormgeving en bij Veronic/Yorin FM was alles af, dus daar lag een uitdaging.
Met alle omroepen en de discjockey's heeft 3FM nu gekozen voor 1 lijn en voor 1 pakket, waarmee alle discjockey's werken. Dit komt de herkenbaar ten goede. Het oude BBC logo wat qua toon naar beneden eindigde is vervangen door een nieuw positief logo wat omhoog gaat. Een trend die zich nu ook vertaalt in de luistercijfers. Het doel is om het station om te buigen naar een positieve muziekzender.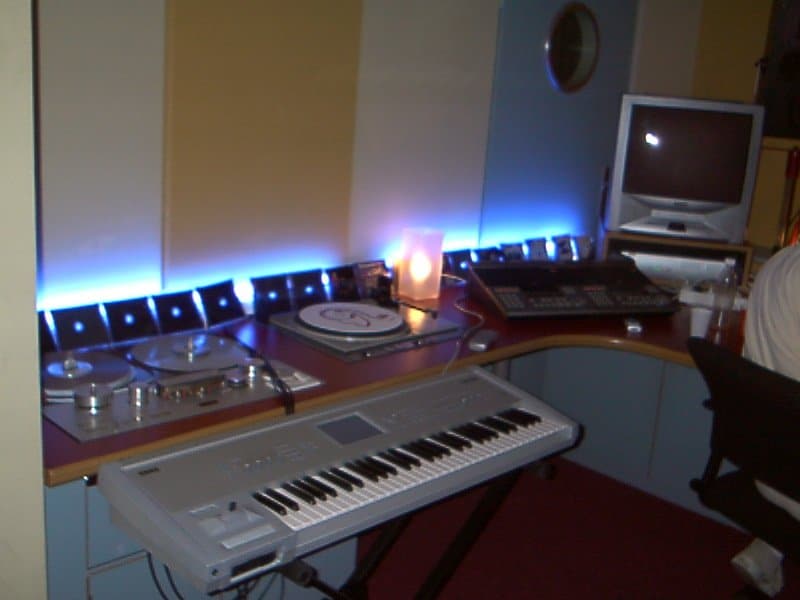 Maar hoe stem je een pakket af op een station? "Veel luisteren naar het station en de jingles afstemmen op de muziek en de discjockey's. Dit hebben wij ook gedaan met oa. speciale Coldplay jingles en gekke Ruud de Wild jingles. De jingles zijn nu zoals het station klinkt. Ik heb het nieuwe pakket gemaakt omdat de oude jingles te hard waren en het station moest positiver worden." En positiviteit is iets wat Diederick uitstraalt en ook in zijn jingles stopt. De studio wordt gekenmerkt door de blacklight en de sinaasappels die Diederick met grote getalen eet. De studio wordt door de verschillende dj's dan ook de sinaasappelstudio genoemd en ze komen ook graag een stukje halen.
Het meeste werk aan het jinglepakket doet hij zelf zoals de teksten maken en de tracks spelen op o.a. een synthesizer. Daarnaast speelt Bert Meulendijk dingen in op de gitaar en de stemmen worden gebruikt van Berget Louis en Edwin Diergaarde. Deze zijn herkenbaar, krachtig en positief. Ook de stem van Caronlien Brouwers wordt gebruikt omdat ze uitdagend, sexy en pakkend klinkt.
Naast de stemmen heb je voor het maken van Jingles ook apparatuur nodig, bij 3FM wordt het volgende gebruikt: de KORG sunthesizer, Roland XV3080 soundmodule tools en als basis Pro Tools met alle plugins, waaronder de Access Virus, Picthblender en Autotune.
Op de vraag met welke stemmen hij het prettigst werkt reageert hij: "Kas van Iersel is voor mij één van de beste, daarnaast ook Edwin Diergaarde en Don La Fontaine. Het belangrijkste bij stemmen vind ik dat ze je echt aanspreken en geloofwaardig zijn. Don La Fontaine is de stem van bijna alle filmtrailers. "Een hele indrukwekkende man om mee te werken".
3FM is niet het enige station waar Diederick jingles voor maakt. Met zijn bedrijf 'Van Huis Uit Radio & TV Vormgeving' is hij ook verantwoordelijk voor de vormgeving van lokale en regionale stations zoals Radio M Utrecht, waar Van Huis Uit binnenkort een hele nieuwe lijn introduceerd. Voor de lokale omroep van Noordwijk, NENS, doet hij ook alle vormgeving. Dit station maakt als eerste gebruik station in Nederland van de unieke mogelijkheid gebruik om naast een basispakket ook elke drie maanden updates van het pakket te ontvangen. Zoals nieuwe Uuropeners, Uursluiters, Promo's en Jingles. Zo klinkt het station altijd nieuw en verfrissend.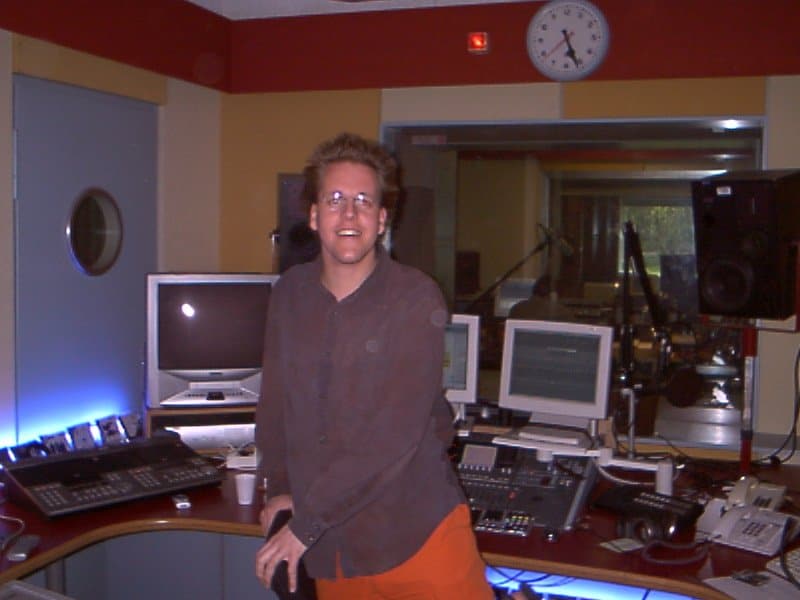 Maar vindt Diederick dat er in Nederland nog andere stations mooie jingles hebben? "'t wordt steeds leuker in Nederland, vormgeving is naast muziek en diskjockeys één van de pijlers van een station. In Nederland is 3FM super, in Frankrijk NRG, en in Amerika zijn Coast 103.5 in L.A. ook gaaf. M'n droom is om nog een keer Z100 te doen. Al is het maar de Uuropener".
Diederick is voorlopig nog niet van plan om weg te gaan bij 3FM: "Ik zit er nu een jaar en er is nog veel te doen, 't wordt steeds leuker. In september krijgen we bijvoorbeeld een hele gave nieuwe programmering. Daarnaast vind ik het leuke van 3FM ook dat er veel ruimte is voor creativiteit. Zo kan ik voor Giel Beelen gewoon een naamjingle maken met Saddam Hoessein".
Diederick heeft wel een doel voor ogen voor de toekomst: "Ik wil lokale stations gaan helpen met gave vormgeving door een een compleet basispakket aan te leveren en daarnaast elke drie maanden updates te leveren". Binnenkort gaat de site van Van Huis Uit Radio & TV Vormgeving de lucht in en die vindt je op www.radiovormgeving.nl.