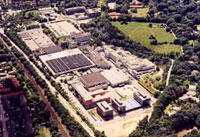 De Hilversumse politieke partijen reageren over het algemeen geïnteresseerd en welwillend op het plan van VVD-fractievoorzitter en zakenman Riens Meijer voor 'Piramedia'. Dat schrijft de Gooi- en Eemlander. Hij wil op het Media Park een piramide-vormig complex bouwen dat een kraamkamer moet zijn voor media- en communicatietalent. Daarnaast moet het een mediarestaurant, een video-conferentieruimte, een mediaclub, een theater, bioscoop of discotheek en een internetwinkel vol technologische snufjes omvatten.
Van Leefbaar Hilversum tot GroenLinks is er waardering dat Meijer met zijn voorstel komt. Ze willen er allemaal wel over praten, al wil GroenLinks het mediapark niet met 'megalomane' plannen laten uitdijen en zou D66 eerder aan een andere plek denken.
Als woordvoerder van de grootste fractie, Leefbaar Hilversum, zegt Frans Klein dat 'elk creatief idee goed onderzocht moet worden op potentie en haalbaarheid'. "Het klinkt in elk geval groots en meeslepend en ik vind dat we hier met een open geest naar moeten kijken."
Ed Reijn van het CDA is iets terughoudender. "Ik verbaasde me wel dat juist Riens Meijer komt met dit plan voor het mediapark. In vergaderingen zie ik hem nooit, maar wel in de krant. Als het constructief is en past in de randvoorwaarden, dan is het misschien wat. Maar voorlopig zie ik vooral vraagtekens."
Verrast, dat was PvdA-fractievoorzitter Hans Haselager, omdat hij uit discussies het idee had gekregen dat de VVD waarvan Meijer de voorman is helemaal niet zit te wachten op extra ontwikkelingen op het mediapark. "Maar ik vind het wel interessant wat hij uitgedacht heeft. Alleen weet ik niet of we wel op al die functies zitten te wachten, zoals een discotheek. Ik wil er wel over praten."
Erik Boog van D66 is evenmin zeker of er wel behoefte is aan alle componenten die Riens Meijer voor zijn Piramedia in gedachten heeft. "Het is verder wel een aardig plan en ik ben benieuwd wat de mediabedrijven er van vinden. Dat je Hilversum hiermee probeert te profileren, dat vind ik prima. Alleen ga je misschien een dorp in een dorp creëren. Ik zou meer de verbinding tussen het mediapark en de binnenstad zoeken. Dat is verstandig, want nu bruist het er al niet en als je dan ook nog voorzieningen naar het mediapark gaat brengen, dan verdwijnt de levendigheid."
GroenLinks misgunt het Riens Meijer niet als hij het project van de grond krijgt, maar voor raadslid Iede de Vries hoeft het niet. "Wij staan niet te dringen om dit soort megalomane projecten op het mediapark te realiseren. Daarom sta ik er terughoudend tegenover. Vanwege de slechte bereikbaarheid van het mediapark is Hilversum nog niet klaar voor dit gedoe. Wij zitten meer op de lijn 'ho, ho, niet zo groot, niet zo veel op dat mediapark'."
Riens Meijer had de eigenaar van het Media Park, TCN Property Projects, al bijgepraat over zijn plannen die hij op hun terrein wil zien te realiseren. Woordvoerder Niels Kranenburg zegt dat het plan er heel leuk uitziet en meegenomen wordt bij het bespreken van andere voorstellen die er liggen voor het uitbouwen van het mediapark.