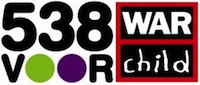 Radio 538 organiseert van 9 tot en met 16 maart de tweede editie van 538 voor War Child. Dit jaar draait de actie om het inzetten van talent. In acht dagen trekken de Radio 538 dj's met de studiotruck langs acht verschillende Nederlandse steden, waar het talent uit de regio de kans krijgt zichzelf te laten zien en horen. Alles met maar één doel: zoveel mogelijk geld ophalen voor het faciliteren van onderwijs voor oorlogskinderen.
Op dit moment zijn er 28 miljoen oorlogskinderen die nooit een leraar zien. Omdat ze niet naar school durven. Omdat ze kindsoldaat zijn. Omdat ze gevlucht zijn. Of omdat de weg bezaaid is met mijnen. War Child zorgt ervoor dat deze kinderen – ondanks de oorlog – leren lezen, schrijven, rekenen of een vak leren. Ook als er geen school in de buurt is.Onderwijs helpt zo letterlijk om de oorlog uit een kind te halen.
Radio 538 en War Child doen acht gemeentes aan tijdens de '538 voor War Child' actieweek. Vrijdag 9 maart Maastricht – Vrijthof, zaterdag 10 maart Nijmegen – Koningstraat (Koningsplein), zondag 11 maart 's-Hertogenbosch – Markt, maandag 12 maart Hilversum – Kerkbrink, dinsdag 13 maart Alphen aan den Rijn – Rijnplein, woensdag 14 maart Meppel – Kerkplein, donderdag 15 maart Leeuwarden – Lange Pijp en op vrijdag 16 maart wordt afgesloten met een groot feest in Groningen – Grote Markt.
Vorig jaar voerde Radio 538 ook actie voor War Child en haalde toen 648.000 euro op.