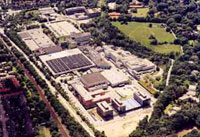 Het Media Park wordt binnenkort gezelliger. De hekwerken rondom het mediapark in Hilversum en de slagbomen bij de ingang zullen mogelijk heel snel verdwijnen. Dat schrijft de Gooi- en Eemlander. De nieuwe eigenaar van het mediapark, TCN Property Projects, wil af van het sinistere beeld 'kamp Media Park' en vindt dat het omroepcentrum de sfeer van een openbaar park moet krijgen.
Directeur Rudy Stroink van TCN Property Projects zegt dat in reactie op een oproep van de Hilversumse wethouder Karen Heerschop en Wentink Events, dat op het Media Park veel dinnershows en bedrijfsfeesten organiseert. Heerschop en Wentink vinden de hermetische afsluiting hinderlijk en bezoekersonvriendelijk.
Sinds deze week kunnen bezoekers en medewerkers het omroepterrein niet betreden of verlaten zonder een pasje. Personeel kan de slagbomen zelf bedienen, incidentele bezoekers zijn afhankelijk van de persoon met wie ze een afspraak hebben voor een dagpasje. Er is een 'douaneachtige sfeer', erkent TCN, die zowel bij de in- als uitgang files veroorzaakt.
Wentink Events is niet blij met het nieuwe systeem. "Mensen komen hier voor een feest of diner, terwijl het park steeds meer een vesting wordt. Daarnaast werkt het niet. Wij hebben zoveel gasten, die moeten allemaal een pasje krijgen. Waarom beveiligt de eigenaar niet vooral die gebouwen die het nodig hebben in plaats van het hele park?"
TCN wil binnenkort gaan bekijken wat er kan veranderen.