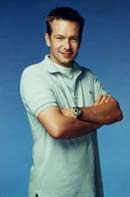 Het nieuws dat Ruud de Wild weg ging bij BNN ging gepaard met het bericht dat ook Jeroen Kijk in de Vegte de omroep zal verlaten. Ruud koos voor een andere radiozender maar Jeroen kiest juist voor de TV en gaat daarom naar Veronica TV. En (tijdelijk) geen radio meer maken.
Jeroen hoefde niet weg en mocht zelfs een nieuw programma gaan doen voor BNN op de radio. Hij zegt hierover : "BNN heeft me zeker gevraagd. Ik kreeg bijna carte blanche. Maar het zou afbreuk doen aan 4 jaar ruuddewild.nl. De samenwerking met Ruud was uniek. Bovendien heb ik al een stuk of 100 radioprogramma's gedaan. In alle vormen. In alle combinaties, op (bijna) alle zenders. Ik wil het risico niet lopen lui te worden of in herhaling te vallen".
Sluit Jeroen de radio dan helemaal uit voor de komende tijd? Want zoals iedereen weet, en ook al op RadioForum.nl werd geroepen, heeft Veronica haar eigen radiozender en daar zou Jeroen goed tussen passen. Maar voorlopig richt hij zich op TV: "Zoals het nu lijkt voorlopig geen radio. Maar wat niet is kan nog komen. Ik wil eerst even zien hoe veel tijd TV in beslag gaat nemen".
Vanaf Maart zal Jeroen voor vast te zien zijn bij Veronica TV.