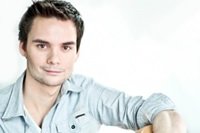 "In het beste geval word je vandaag of morgen gebeld door 3FM voor een nachtprogramma", zo vertelde Rob Stenders hem nog geen drie jaar geleden. Inmiddels zit hij alweer 2,5 jaar in het opleidingstraject van 3FM, presenteert hij vanaf morgen zijn dagelijkse programma tussen 4:00 en 6:00 uur op de zender, maakt hij elke zaterdagavond samen met Annemieke Schollaardt 'Weekend DNA' en heeft hij een Marconi Award voor aanstormend talent op de schoorsteenmantel staan: Domien Verschuuren.
"Het is een beetje het klassieke beeld: het radiovirus begon bij mij met een My First Sony op mijn achtste", zo vertelt Domien aan RadioFreak.nl. "Met dank aan mijn vader werd mijn hobby wat serieuzer. Ik kreeg van familie een mengpaneeltje en hier kocht mijn vader cd-spelers, een versterker etc. bij, waardoor ik zowaar plaatjes aan elkaar kon mixen. Ik was het gelukkigste kind van heel de basisschool. Ik werkte in die tijd voor ook een tijdje voor de lokale omroep van Goirle, waar ik mee deed aan het kinderprogramma."
"In 2001 kwam 538 Webstation uit. Met dit programma kon je zelf radio maken en op internet zetten. Vergelijkbaar met wat nu podcasten is. Na een tijdje 538 na te hebben gedaan via dat programma ben ik live internetradio gaan maken. Zo ben ik een aantal jaar bezig geweest, tot ik aan de slag kon bij Radio E-FM in Eindhoven, waar ik diverse programma's heb gemaakt. "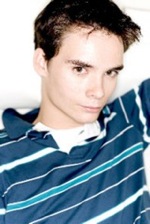 "Rond 2005 begon ik met het maken van mijn podcast 'Koelcast'. Dit was een opgenomen radioshow waarin ik mensen belde en plaatjes draaide. Ik deed gewoon wat ik echt leuk vind. Rob Stenders pikte dat toevallig op en belde mij met de mededeling: 'Ik heb je podcast gehoord'. Er volgde een proefprogramma bij KX Radio en daar waren ze enthousiast over en toen is me gevraagd om daar een programma te gaan maken."
KX Radio zorgde er voor Domien in beeld kwam bij 3FM. "Ik ging na een paar weken wat drinken met Rob Stenders. Hij zei: 'In het beste geval word je vandaag of morgen gebeld door 3FM voor een nachtprogramma.' Ik dacht: 'dat zou mooi zijn, maar dat gaat nooit gebeuren, gekke Rob Stenders.' De volgende dag kreeg ik een mailtje van Iwan Reuvekamp (de opleidingscoördinator van 3FM red.) of ik mijn nummer wilde mailen. Dat was echt heel bizar."
"Iwan vroeg me of ik een demo wilde sturen. Ik droomde van 3FM, wilde daar altijd al heel graag werken, maar twijfelde echter of ik er wel klaar voor was, ik was net achttien geworden. Ik besloot desondanks een demo op te sturen en deze werd positief ontvangen. Iwan zag wel wat in mij en dat betekent bij 3FM dat je off air mag oefenen in de studio van 3FM. Dat is één van de tofste dingen aan de opleiding van 3FM. Na een tijdje vroeg Iwan of ik 'de komende twee weken wat vaker kon komen'. Toen bleek dat Rinse Blanksma naar Caz ging. Heel voorzichtig hoopte ik dat het onwerkelijke zou gebeuren. En binnen een maand nadat ik een demo stuurde, in april 2006, had ik mijn eigen wekelijkse nachtprogramma."
Bij 3FM presenteerde Domien sindsdien programma's op maandagnacht en donderdagnacht en tevens deed hij de productie van 'Ekstra Weekend' vanaf het begin van het begin van dat programma. "Het was ontzettend gaaf om die teringbende op vrijdagavond in goede banen te leiden. Ik heb er heel veel geleerd over hoe een programma geproduceerd wordt en over hoe je het weekendgevoel neerzet op de radio. Achter de schermen heb ik echt heel veel basisdingen van het maken van een radioprogramma geleerd."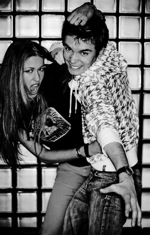 Sinds begin dit jaar presenteert Domien samen met Annemieke Schollaardt het programma 'Weekend DNA' op zaterdagavond tussen 20:00 en 23:00 uur. "In oktober 2007 werd duidelijk dat 'Ministry Of Beats' ging stoppen. Er werd een profiel voor een programma op dat tijdslot geschreven vanuit de zenderredactie met de mogelijkheid voor duopresentatie. De TROS is vervolgens bij de NPS gaan kijken of ze samen niets konden en dat werd 'Weekend DNA'. Het is ongelofelijk leuk om samen met Annemieke een weekendprogramma te maken."
Vanaf vannacht gaat Domien de laatste fase van de 3FM-dj-opleiding in: hij krijgt een dagelijks nachtprogramma tussen 4:00 en 6:00 uur. 'Domien is Wakker!' volgt Martijn Muijs op, die 3FM heeft verlaten. "Een dagelijks soloprogramma is de beste manier om mijn kwaliteiten verder te ontwikkelen. Ik ga vijf dagen per week een programma maken voor de mensen die wakker zijn en wakker worden. Het zal zwaar worden, zowel qua ritme als om Martijn Muijs te vervangen, maar ik heb er ontzettend veel zin in", zo vertelt de dj enthousiast.
Domien is één van de eerste dj's op de landelijke radio die op internet is begonnen met het maken van radio. "Je ziet steeds meer nieuwe talenten die op internet zijn begonnen, bij Slam!FM zitten er ook een paar. Het is een fenomeen wat je de komende jaren steeds meer zult zien."
Met een leeftijd van slechts twintig jaar is Domien de jongste dj binnen 3FM. "Dat is soms leuk, soms ook niet. Er worden vaak grappen over gemaakt, maar dat kan ik wel hebben." Hij heeft door zijn leeftijd andere radiohelden dan veel andere dj's. "Rick van Velthuysen is de reden geweest dat ik ben begonnen met radio maken en door 'RuuddeWild.nl' op 3FM raakte ik verslaafd aan het medium. Ruud de Wild heeft met zijn programma de basis gelegd voor wat ik nu doe. Heb een tijd gehad dat ik het programma echt na deed en met prullenbakken gooide op de radio. Tegenwoordig hoor je het hopelijk niet meer terug in mijn programma op 3FM, maar ik heb veel aan het luisteren naar de radioshows van Ruud te danken."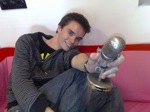 "Dat ging helemaal nergens over", vertelt Domien over zijn Marconi Award voor aanstormend talent die hij een jaar geleden won. "Ik was genomineerd voor die prijs met enkel een wekelijks nachtprogramma. Ik heb geen seconde gedacht dat ik hem zou winnen, maar op 6 september 2007 hoorde ik plots mijn naam vallen toen ik in het Spant in Bussum was." Domien verkeerd in goed gezelschap met zijn prijs, de afgelopen vijf jaar wonnen allemaal dj's die bij de NPS werken of er hebben gewerkt: Michiel Veenstra (2004), Sander Lantinga (2005), Timur Perlin (2006) en Bart Arens: (2008). "De NPS geeft jong talent heel veel kans. Onze eindredacteur is altijd bezig met het spotten van talent."
"Ik hoop voorlopig te blijven doen wat ik nu doen. Vooral beter worden", zo vertel Verschuuren over zijn toekomst. "Qua programma trekt de avond me ook heel erg. Je hebt daar, net zoals in de nacht, een bijzondere band met je luisteraar. Ik mag overigens nu al wel eens radio maken in de avond, want ik ben de vaste vervanger van Michiel Veenstra in 'MetMichiel'." Een overstap naar een andere zender zal de dj niet snel maken ."Ik heb altijd gedroomd van 3FM. En als je je droomvrouw gevonden hebt, ga je niet opeens naar een andere vrouw."