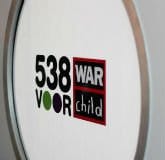 45.475 kinderen zijn inmiddels geholpen door de actie 538 voor War Child. De 538 Studiotruck stond gisteren in Veenendaal waar de lusteraars en dj's druk bezig waren zoveel mogelijk geld op te halen voor het doel.
De opbrengst gaat dit jaar naar oorlogskinderen die er helemaal alleen voor staan. Honderdduizenden kinderen raken door oorlog hun ouders kwijt. Veel van hen belanden in de prostitutie, of worden uitgebuit als huisslaaf of kindsoldaat. War Child komt op voor deze kinderen en zorgt ervoor dat ze op een veilige plek weer gewoon kind kunnen zijn.
De actie duurt tot en met vrijdag en vandaag zijn de dj's te vinden in Arnhem. Vorig jaar konden op het eind van de actie 72.984 kinderen worden geholpen. Een jaar eerder konden 54.000 kinderen worden geholpen.