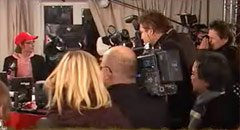 Coen Swijnenberg, Giel Beelen en Paul Rabbering zijn zojuist door minister Bert Koenders van Ontwikkelingssamenwerking opgesloten in het Glazen Huis op de Grote Markt in Breda. Daarbij was veel media aanwezig.
Tot en met woensdag 24 december brengen de drie dj's samen zes dagen door in een tijdelijke studio, waar zij zonder eten onafgebroken radio maken. Met deze actie willen 3FM en het Rode Kruis zoveel mogelijk aandacht vragen en geld ophalen voor vluchtelingen wereldwijd.
"Ik vind het heel mooi dat jongere mensen met dit doel bezig zijn", zo zei Koenders. "We leven in een tijd van kredietcrisis, maar ik denk dat veel mensen ook weten dat er in Afrika en Azië veel nodig is." Hij gaf namens de Nederlandse regering 2,5 miljoen euro. "Onder voorwaarde dat jullie ten minste dat bedrag ook binnen halen de komende dagen." Hij vroeg ook een plaatje aan: U2 – Where The Streets Have No Name. Daarvoor gaf hij een onbekend bedrag. Vervolgens werden de dj's rond 09:20 uur opgesloten in het huis.

Naast de drie dj's in het Glazen Huis helpen ook de andere 3FM-dj's mee. Timur Perlin vlucht door Europa, Gerard Ekdom schudt handen voor geld, Michiel Veenstra gaat met de Coca Cola kersttruck door het land, Sander Lantinga is te huur en Domien Verschuuren zit in het call-center. Eric Corton haalt geen geld op, maar ging eerder dit jaar al naar Kenia om de situatie van de vluchtelingen daar te bekijken. Zijn verslagen zullen te horen zijn in de uitzendingen.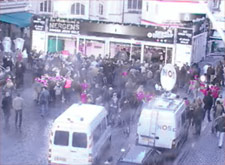 De uitzendingen van Serious Request zijn niet alleen te volgen via de radio, maar ook via televisie en internet. Via speciale kanalen van kabelaanbieders kan 24 uur per dag live naar het Glazen Huis worden gekeken en deze uitzendingen zijn ook via internet te bekijken. Elke avond is rond half acht een speciale televisieshow te zien rondom de actie, gepresenteerd door Sander Lantinga en Sophie Hilbrand. Daarnaast ondersteunt men de actie via de website en een speciale mobiele applicatie.
Naast de actie in Nederland staan er dit jaar ook Glazen Huizen in het Zweedse Malmö, het Belgische Gent en in het Keniase Nairobi. De actie in Zweden eindigt overigens morgen al en het huis in Nairobi is niet bedoeld om geld op te halen, maar om aandacht te vragen voor de vluchtelingen.