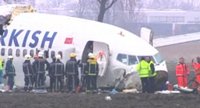 De grote muziekzenders hebben hun muziek aangepast na de vliegtuigcrash op Schiphol. Zojuist werd bekend dat daar negen mensen bij zijn omgekomen. Op Radio 3FM, Radio 2, Sky Radio, Radio Veronica, Radio 538 en FunX draaien voorlopig geen nummers die over vliegen of vliegtuigen gaan of teksten hebben die daarnaar verwijzen. FunX controleert ook in het bijzonder alle Turkse nummers die op de playlist staan.
"Het is vaak een gevoelskwestie", zegt programmeur Basyl de Groot van 3FM. "Alle platen die enigszings verwijzen naar het ongeluk omzeilen we nu even."
Op 3FM zijn op dit moment ieder half uur nieuwsupdates te horen. Radio 1 en BNR Nieuwsradio hebben continu live uitgezonden.
Oud-3FM en oud-Yorin FM dj Henk Westbroek heeft geluk gehad. Hij had in het vliegtuig van Turkish Airlines moeten zitten, maar heeft op het laatste moment de vlucht omgeboekt. Hij houdt niet van vroeg opstaan en heeft voor 70 euro een latere vlucht genomen.