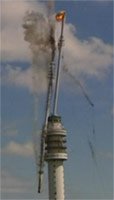 Binnen drie weken moet duidelijk zijn of er een nieuwe hogere noodmast komt in het Noorden. Dat is uit een overleg met betrokken partijen zoals zendmasteigenaar NOVEC en zenderoperator Broadcast Partners gekomen. De komende weken wordt onderhandeld over wat er mogelijk is en hoe dat gefinancierd moet worden.
Vorige maand beloofde minister Verhagen van Economische Zaken aan de Tweede Kamer om te kijken of er een andere hogere noodmast kon komen. Gisteren gaf de minister aan dat hij niets voor de radio luisteraars en digitenne kijkers kan betekenen, en dat het aan de partijen zelf is of een hogere noodmast er komt.
Na een brand in de zendmast van Hoogersmilde, viel die om. Sindsdien zijn er veel problemen met de radioontvangst in het Noorden.