Het is maandagavond en Rob Janssen stapt de redactie op van Kermis FM in Tilburg. Ondanks dat hij helemaal niet in Brabant woont, heeft hij de rit naar het zuiden al vaak gemaakt. "Voor 2012 was ik nog nooit in Tilburg geweest", zegt de dj die nu op vrijdag, zaterdag en zondag tussen 12:00 en 14:00 uur op 3FM te horen is. "Door Kermis FM kwam ik daar en de stad heeft m'n hart gestolen."
De evenementenzender op de Tilburgse Kermis is dit jaar voor de tiende keer in de lucht en weet professionals en nieuwe talenten naar zich toe te trekken. Voor Rob betekende Kermis FM een grote verandering in z'n leven. "Ik was tot dan toe nog niet verder gekomen dan zolderkamerradio en de oprichter van Kermis FM, Arno Leblanc, vroeg me in 2013 of ik met hem een paar programma's wilde maken. Ik vond jingles maken helemaal tof, dus ik ben toen helemaal los gegaan." Die uitzendingen kwamen bij 3FM terecht en zo kwam Rob in het talentenprogramma van de publieke zender terecht. "Zonder Kermis FM was ik niet op de landelijke radio geweest", zegt hij in een podcast over het 10-jarige bestaan.

De studio van Kermis FM op de Heuvel in Tilburg

Sinds 2012 heeft hij geen jaar overgeslagen. "Ik heb een hoop vrienden overgehouden aan Kermis FM. Iedereen heeft een paars shirt aan en het maakt dan niet meer uit of je in het dagelijks leven eindredacteur bent bij de NOS, of nieuwslezer bij RTL Nieuws, of student bent, iedereen is hetzelfde. En iedereen maakt Kermis FM, 10 dagen lang volle bak en dat verbroederd enorm."
Amber Brantsen
Ook Amber Brantsen komt al vijf jaar in Tilburg om radio te maken. "Tijdens mijn eerste editie leerde ik ontzettend veel over nieuwslezen én andere disciplines binnen de media. Maakte ik vrienden voor het leven. Sliep ik veel te weinig. En besefte ik dat ik heel erg op mijn plek was in het mediawereldje. Dit wilde ik", schrijft de presentatrice van het NOS Journaal op haar blog.
Vanavond is ze opnieuw te horen vanaf 18:00 uur. "Het blijft wel een beetje vreemd om nu als 'Amber van de NOS' te worden aangekondigd. Nog niet zo lang geleden was ik gewoon Amber, die best een beetje zenuwachtig dat Tilburgse station uitkwam, op zoek naar de redactie.
FM en DAB+
De uitzendingen zijn in Tilburg en omstreken te horen op 105.9 FM en dit jaar voor het eerst ook in heel Brabant op DAB+ via het netwerk van MTVNL op kanaal 9C. Het jinglepakket van Kermis FM is gemaakt door The Rocketeers uit Hilversum en ingesproken door Ferry van der Heijden. De mobiele studio komt van Red Bee, met Omniplayer automatisering. De FM-zender staat op het dak van flatgebouw de Kattenrug in Tilburg op 32 meter hoogte.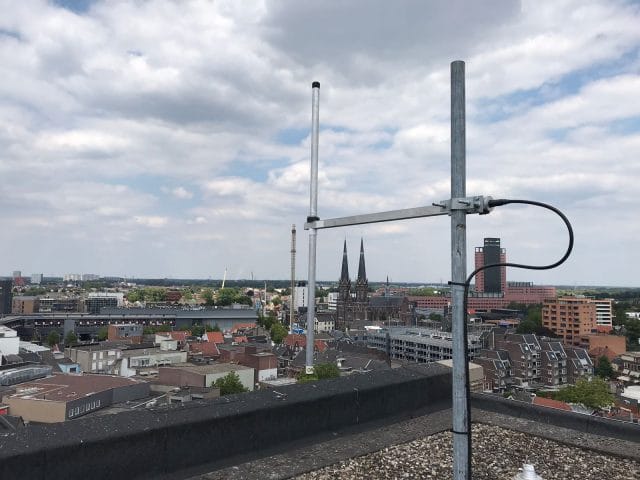 De zendmast van Kermis FM