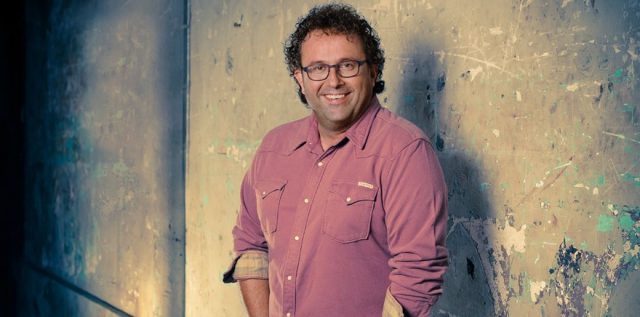 Rick van Velthuysen wil met zijn nieuwe programma op NPO Radio 2, in de luwte van de nacht, weer zijn draai vinden op het hoogste niveau. Dat vertelt de dj in gesprek met RadioFreak.nl. Vanaf januari 2019 is Rick voor omroep PowNed dagelijks tussen 02:00 en 04:00 uur te horen op de publieke zender. Daarmee maakt Rick na ruim twee jaar zijn comeback op de landelijke radio.
Blij om weer terug te zijn op de landelijke radio?
"Natuurlijk! Je gaat aan Max Verstappen toch ook niet vragen of hij het in zijn FIAT Multipla een beetje naar zijn zin heeft? Iedere professional wil uitkomen op het hoogste niveau, dus dat streef ik dan ook na, wat niet wegneemt dat de andere divisies ook best interessant kunnen zijn."
Er zullen mensen zijn die zeggen: 02:00 tot 04:00 uur, dat is wel het sléchts mogelijke tijdstip voor een radioshow.
"Ach ja, de mastodonten van ons medium zullen misschien deze mening zijn toegedaan, maar in een tijdperk van on-demand media bestaat er haast geen specifieke nachtradio meer. Mensen die dat zeggen zitten waarschijnlijk ook om acht uur klaar voor het achtuurjournaal."
"Live radio heeft natuurlijk ook mijn voorkeur, maar als de content de moeite waard is, dan luister ik het programma net zo makkelijk 12 uur later. Daarnaast vind ik het ook wel even aangenaam om in de luwte van de nacht mijn draai weer te vinden op het hoogste niveau. Als je liefhebber bent, zoals ik, dan kan ik 24/7 genieten van mijn werk."
Wat kunnen we verwachten van je nachtshow? 'MiddenInDeN8Rick' 2.0?
"De veelgehoorde opmerking is vaak 'we gaan het helemaal anders doen.' Maar ik ben wie ik ben en ik heb een bepaald idee hoe nachtradio gemaakt moet worden, dus daar zullen ongetwijfeld grote raakvlakken zijn met 'MiddenInDeN8Rick', maar ik ga het programma bewust zo niet noemen."
"Die periode van 3 jaar nachtradio bij Radio 538 was iconisch en moet dit vooral ook blijven. Ik zoek graag het contact met de luisteraar, ben dol op verrassende invalshoeken, ik mag graag al het absurde uitvergroten en bovenal mijn liefde voor muziek zal in het programma doorklinken."
NPO Radio 2 is de afgelopen jaren flink vernieuwd. Waarom pas jij zo goed bij de zender?
"Bij Radio 2 wordt – vaak vanuit het hart – goed nagedacht over wat te doen met deze zender. Bij Radio 2 dus geen managementteam dat academisch, haast rigide, een koers wil bepalen en vervolgens de jocks het operationele veld instuurt met een mandaat en een bewegingsvrijheid dat uitsluitend verstikkend kan werken."
"In alle gesprekken met Radio 2 en mijn omroep PowNed is mij wel duidelijk geworden dat er veel vertrouwen wordt gesteld in mijn ervaring en kennis. Daarnaast is het Radio 2-nest gevuld met veel gelijkgestemden en jocks die elkaar vaak al door-en-door kennen, waardoor er ook wel eens vriendschappen zijn ontstaan. Dat alles schept een band en dat ga je horen als luisteraar."
En dan straks vanuit de nacht naar de dagprogrammering?
"Momenteel voel ik niet de behoefte om op pole position te gaan staan. Laat mij maar lekker vanuit de pits starten en zo eerst eens mijn eigen rondjes mee te rijden. Bovendien en dat is het voordeel van ouder worden, vind ik het ook leuk om jonge talentvolle radiomakers op weg te helpen."
"Mijn rol bij Radio Veronica is uitgespeeld"
Je oude radiozender, Radio Veronica, werd onlangs nog 'het zorgenkindje van Talpa Radio' genoemd. Gaat de zender je nog aan het hart?
"Ja, natuurlijk gaat het lot van Radio Veronica mij nog steeds aan het hart. Zolang als ik radio luister was en is er Radio Veronica, maar mijn rol is daar uitgespeeld. Ik heb er afscheid genomen van, over het algemeen, alleen maar toffe collega's en die gun ik vooral alle goeds."
"Ik heb altijd een 'broertje dood' gehad aan omkijken in wrok en dan openlijk het 'zie je nu wel!', of 'ik had het toch wel gezegd!' uit te spreken. Ik heb zo mijn eigen ideeën, maar die zijn privé. Ik gun mijn oud-collega's alle goeds, maar mijn focus ligt nu bij Radio 2."
Giel Beelen werd door Radio Veronica aangetrokken om de luistercijfers op te krikken. Tot nog toe zonder veel resultaat. Werkt verjonging altijd?
"Verjonging is in algemene zin zo'n zwaar overschat modewoord voor managers, die kennelijk in hun beleid geen andere uitweg meer weten te vinden, richting de aandeelhouders en dan het woord 'verjonging' er maar eens ingooien."
"Vertel mij eens hoe jij 'verjonging' daadwerkelijk hoort op de radio. Je moet als radiomaker natuurlijk wel met je tijd meegaan en dat moet ook vooral van harte gaan, maar niemand hoort op de radio of jij 29 of 47 jaar bent, tenzij er een oude ziel in jou als programmamaker huist."
"Wat ik van de Radio Veronica-luisteraar altijd zo enorm waardeerde, was dat deze luisteraar vaak zo hondstrouw was en daar moet je dan ook zorgvuldig mee omgaan."
Rick van Velthuysen is vanaf januari iedere werkdag van 02:00 tot 04:00 uur te horen op Radio 2.