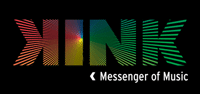 Kink FM wil zich vanaf volgend jaar opnieuw profileren. Met een nieuw logo en de slogan 'Messenger of Music' hoopt de popzender een groter publiek te bereiken. Reclamebureau Artmiks ontwikkelde de nieuwe profilering.
Naar eigen zeggen is Kink FM "de afgelopen jaren uitgegroeid tot cross mediaal muziekplatform". Het heeft naast de zender Kink FM, waarmee het ooit begon, specialistische internetradiostations zoals Kink Classics en Kink Aardschok en Kink TV waarbij dagelijks muziek en interviews te zien zijn. Vanaf januari lanceert Kink FM een nieuw themakanaal: Kink X-Rated met avantgarde-muziek.
"Kink heeft zich in de afgelopen jaren tot een prachtig crossmediaal muziek platform ontwikkeld. Bij Kink staan we voor goede muziek. Het is de leukste plek om goede en nieuwe muziek te ontdekken. Met onze crossmediale opzet willen we muziekliefhebbers via alle kanalen op hun wenken bedienen. In 2011 gaat Kink optredens op geheel eigenwijze verslaan en bieden we naast de beste pop- en rockmuziek ook vanzelfsprekend nieuwe bands een prachtig podium", zegt stationmanger Jantien van Tol.
Marco de Boer, creatief directeur bij Artmiks: "Het thema, 'Messenger of Music', was snel duidelijk. Niemand anders is zo bevlogen als het om muziek gaat. Echt iedereen bij KINK is er vol van. Ze willen er voortdurend over vertellen en zijn continu met muziek bezig. Bij Kink gaat het echt over de passie voor muziek en muziekliefhebbers. Het nieuwe logo is gebaseerd op het ruwe zwartwit logo van Kink´s beginjaren. De diversiteit van muziekgenres op Kink wordt weerspiegeld in de kleuren van het logo. Rood/Blauw voor Pop-Rock tot aan Blauw/Groen voor een programma als Electronation."