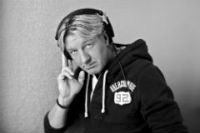 Michael Pilarczyk heeft weer tijd en zin om radio te maken. Dat zegt hij in een interview met RadioFreak.nl dat morgen verschijnt. Door zijn werkzaamheden voor televisie kon hij geen radio meer maken maar nu heeft hij weer tijd.
"Ik ben weer beschikbaar en ik heb best zin om weer radio te gaan maken," laat hij aan RadioFreak.nl weten. "Ik zou graag een goeie ochtendshow maken of 's nachts lekker off the record draaien met mooie verhalen." Ook een functie als stationvoice sluit hij niet uit.
Eerder was Pilarczyk al werkzaam bij Radio 2, Radio 3, Radio 5, Radio 538, Yorin FM en Radio Veronica. Daarnaast presenteerde hij diverse programma's op televisie. Morgen kun je het hele interview met Pilarczyk lezen op RadioFreak.nl.