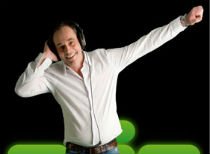 Fred van den Bol start in 1999 bij Veronica FM, waar hij op zondagavond van 22:00 tot 02:00 het programma SuperFred presenteert. Vanaf 2000 presenteert hij dit programma van maandag tot en met donderdag van 16:00 tot 20:00 uur.
Een jaar later gaat Veronica FM over in Yorin FM en maakt hij samen met Olav Mol is de middagshow en daarna de ochtendshow. Als Mol van RTL naar SBS gaat moet ook Van den Bol het station verlaten.
Hierna gaat hij achter de schermen aan de slag bij Keizerstad FM en zijn eigen bedrijf De Audiovormgevers. Hij maakt nog even een uitstapje naar Q-music waar hij te horen is als Toeterman.
Van den Bol is nooit onder zijn eigen naam te horen op de radio. "Wel als SuperFred, Fred De Deejay en Freddy Gonzales maar nooit onder mijn eigen naam want die vonden ze maar raar in Hilversum."
Wat doe je nu?
Sinds 2005 heb ik een eigen audio productiebedrijf, De Audiovormgevers. Ik kan daar gelukkig al mijn creativiteit kwijt bij het produceren van radiocommercials, audio ten behoeve van tv commercials en alle andere audiovormgeving die je maar kunt bedenken.
Het werk is lekker divers en varieert van het produceren van audio ten behoeve van landelijke radio- en tv commercials voor grote merken, tot en met de productie van lokale en regionale commercials en vormgeving. Ik blijf het leuk vinden om voor de fietsenmaker op de hoek net zo'n mooie spot te maken als voor een grote nationale klant. Die afwisseling en het contrast houden het leuk.
Ook word ik de laatste tijd steeds meer zelf gevraagd als voice-over en spreek ik dus regelmatig voor externe bedrijven in.
Waarom ben je niet meer op de landelijke radio te horen
Ha ha ha….dat denk ik zelf ook wel eens… Volgens mij zijn er 2 opties:
Mensen kennen mij alleen als een mafkees door het typetje SuperFred bij Veronica FM. Luisteraars dachten echt dat ik in een supermanpak achter de microfoon zat en compleet gestoord was waardoor ik waarschijnlijk wat vreemdere uitspraken deed dan andere deejays. Van zo'n SuperFred imago kom je natuurlijk moeilijk af ondanks het feit dat ik ook prima strak en kort kan presenteren.
De andere optie is dat ik destijds gewoon heel veel geluk heb gehad door aangenomen te worden bij Veronica FM. Juiste tijd, juiste plaats, juiste mensen.
Ik kende in die tijd namelijk deejays die veel beter waren maar nooit doorgebroken zijn naar de landelijke radio.
Ben er in ieder geval heel dankbaar voor en heb een te gekke tijd gehad. Gelukkig hebben we de foto's nog..
Wat was je leukste radiomoment
Dat zijn er heel veel! Heb je een paar uurtjes? Wat me altijd bij zal blijven is mijn eerste nachtuitzending bij Veronica FM. Het eerste half uur was ik zenuwachtig maar ging ondanks dat wel lekker tot de deur van de studio open ging. In de deuropening stond Jeroen van Inkel samen met Adam Curry, mijn radiohelden waar ik als jochie altijd naar luisterde. Jeroen kwam even de studio laten zien aan Adam. Ik stond te trillen op mijn benen en de rest heb ik maar non-stop gedaan tot ze weg waren.
Daarnaast zijn er echt nog teveel leuke radiomomenten om op te noemen. Ik heb het daar nog vaak over met een paar oud collega's die ik nog regelmatig spreek.
We hebben echt heel veel lol gehad! Misschien moet ik er toch maar een keer een boek over gaan schrijven.
Is er een kans dat we je weer landelijk gaan horen?
Zeg nooit "nooit", radio is een verslaving en blijft altijd een grote passie die ik nog steeds wel mis. Ik blijf gewoon wachten op een telefoontje van Radio 10 Gold waarin ze vertellen dat één van de deejays op 95 jarige leeftijd tijdens zijn programma met de sigaar in de mond is overleden en er daardoor een plekje voor mij vrijkomt.
Het kan dus nog wel even duren of zelfs een droom zijn…..tegenwoordig geldt namelijk overal een rookverbod! Tot die tijd vermaak ik me best bij De Audiovormgevers.
Naar welke dj en welk station luister je nu graag?
Ik luister graag naar een aantal oud collega's die op verschillende stations te horen zijn en ook nog steeds graag naar Edwin Evers voor het ongeëvenaarde positieve sfeertje. Daarnaast luister ik regelmatig naar Soulradio, mijn favoriete online station. Terwijl ik deze vragen beantwoord, hoor ik daar een echte freakplaat, Junior met Mama used to say…. kan ik echt van genieten. Super muziek en goede processing!
Gelukkig kan ik ook nog steeds helemaal uit mijn dak gaan van de huidige hits en dancemuziek maar schaam me ook niet om af en toe naar Radio 1 en BNR te luisteren. Een zwevende luisteraar dus.
Heeft de radio nog toekomst?
Zeker! Vooral in deze tijd met alle online mogelijkheden. Wel zal radio volgens mij nog meer een onderdeel worden van complete multimediaplatforms waarin radio, tv, ondemand, text en social media samensmelten. Dit alles bediend door de smart Phone of tablet zowel thuis als in de auto.
Beluister hier een overzicht van verschillende airchecks van Fred: