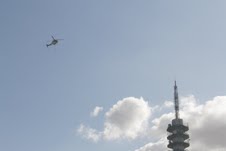 Agentschap Telecom controleert deze week Nederlandse zendtorens en antenne-opstelpunt met een helikopter om te controleren op de vergunningsvoorwaarden. Het meetinstrument aan de helikopter en de meetmethode zijn speciaal voor dit doel door het Agentschap ontwikkeld en zijn uniek in Europa. Het geeft de toezichthouder inzicht in de manier waarop FM-omroepen de vergunningsvoorwaarden naleven.
Volgens directeur Peter Spijkerman zal de manier waarop het agentschap en de omroepen met elkaar in gesprek zijn over het voorkomen en oplossen van storingen hierdoor worden beïnvloed. Een overschrijding van het toegestaan vermogen van een antenne kan leiden tot verstoring van andere zenders. Een onderschrijding kan leiden tot klachten over slecht bereik in bepaalde gebieden. Peter Spijkerman zegt daarover: "deze voor Europa unieke meetmethode stelt ons in staat storingsproblemen tussen zenders en klachten van luisteraars beter op te lossen.
In de afgelopen jaren heeft Agentschap Telecom een systeem ontwikkeld waarmee het uitgezonden vermogen van zendtorens voor FM-omroepen kan worden gecontroleerd vanuit de lucht. De resultaten van metingen vanuit de lucht zijn betrouwbaarder dan die van metingen vanaf de grond. Dit komt doordat hierbij de beïnvloeding van de uitkomsten vanwege demping of reflectie door omgevingsfactoren duidelijk minder is. Daarom heeft het agentschap een meetsysteem ontwikkeld dat uitgaat van controles op een bepaalde hoogte en afstand van een zendtoren of antenne-opstelpunt.
In Nederland staan 24 zendtorens en een groot aantal opstelpunten voor antennes. Gemiddeld maken zes tot acht omroepen gebruik van een zendtoren voor hun uitzendingen. Sommige omroepen stralen vanaf de zendtoren een even sterk vermogen uit in alle richtingen. Andere omroepen stralen naar verschillende richtingen verschillende vermogens uit. Dit om te voorkomen dat ze storen op zenders van andere omroepen of op zenders uit buurlanden. Op welk vermogen en in welke richting een omroep mag uitzenden staat beschreven in een zogenoemd antennediagram dat hoort bij de vergunning.
Met een eerste vlucht, propagatievlucht genoemd, wordt bepaald wat de beste afstand tot de toren is voor de meest betrouwbare metingen. Hiervoor wordt midden in het te meten spectrum recht op de toren af gevlogen. Vaak ligt de ideale afstand tussen achthonderd en twaalfhonderd meter. In dit gebied fluctueren de radiogolven het minst. Vervolgens wordt op die afstand een stijgvlucht gedaan om de beste hoogte voor de metingen te bepalen. Wanneer hoogte en afstand bekend zijn, wordt een aantal rondjes om de toren gevlogen waarbij een meet-antenne –die onder de helikopter is bevestigd– continu op de toren staat gericht. Het hieruit verkregen antennediagram wordt vergeleken met het antennediagram van de afgegeven vergunning.
De uitkomsten van de metingen worden, als daar aanleiding toe is, met de omroepen besproken. Peter Spijkerman: "De uitkomsten bepalen of we het toezicht rond de zendtorens de komende jaren een structureel karakter moeten geven of niet. Daarnaast kunnen we de resultaten gebruiken wanneer we nieuwe omroepvergunningen afgeven. We zullen dan nog beter in staat zijn om tot op de decibel nauwkeurig vergunning te verlenen. Andere Europese toezichthouders zijn erg geïnteresseerd in onze methodiek en overwegen onze meetmethodes over te nemen."