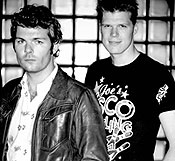 Coen Swijnenberg en Sander Lantinga gaan op vrijdag 2 februari een plaat opnemen met The Partysquad & Brainpower. Het idee is ontstaan toen de rappers vorige week te gast waren in het BNN-radioprogramma 'De Coen en Sander Show' op 3FM.
Vrijdag aanstaande duiken de rappers samen met Coen en Sander de studio in. Onder begeleiding van Brainpower zullen de 3FM dj's hun eigen tekst schrijven en rappen. Jerry, de dj van The Partysquad, heeft inmiddels al een passende beat gevonden voor deze plaat.
Het resultaat is te horen op 3FM.